When a publicist recently offered me a review copy of a book called Strange but True! published by Time for Kids because it had "a chapter devoted entirely to ART," I said yes, with high hopes. A mistake.
Chapter 7, "Strange but True Art," asks "What is art?" and responds "It's a picture of stairways and strange creatures. It's a dress made from a tasty dessert. It's a creation inspired by a weather map. These are only a few of the strange but artful ideas you're about to discover."
The book is aimed at children aged 8 through 12. The art chapter begins with an opening spread teasing what follows and cites as strange "an umbrella hat," "a monster that prowls beaches," and "a dot-crazy room." Can you guess the artists being cited?
We'll get to them in a minute. But that wasn't what I saw as an optimal way to get children interested in museum-worthy art, which is what I was hoping for.
I went back and reviewed the book's billing, stated as intended to provide "an offbeat and very kid-appealing look at the workings and fascinating oddities of the natural world as well as offbeat human behavior and talents. The book's editorial mission is to show kids 8 to 12 that planet Earth is filled with the odd, the weird, and the wacky-both natural, human and human made," according to the publisher's description on Amazon.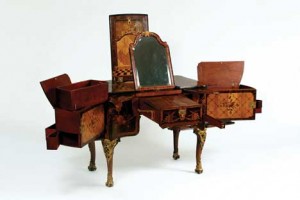 Now what art would fit that billing? Kids who read this book will get a Ukranian pastry chef who made a dress of 1,500 cream puffs; a 1930s zoot suit; that aforementioned umbrella hat/dress by Alexander McQueen; kinetic beach animals made by Dutchman Theo Jansen (the monster); and Yayoi Kusama's Obliteration Room. They also get a styrofoam sculpture by Tara Donovan, a robot sculpture by Alex Holden, and a drawing by M.C. Escher. Plus a mention of the Penrose Triangle sculpture in Australia without attribution to an artist.
Now, some of those examples are just fine. But aren't there better opportunities here? What about Bosch? Pollock? Turrell? Petak Coyne even? Why not the Roentgens, whose inlaid furniture pieces have secret compartments (and will soon be shown at the Met)? Those are just off the top of my head.
I suppose it's the zoot suit and creampuff dress that set me off. And the trivialization of art. Art is sometimes strange, but I'd rather not have children start off learning about the mix this book presents.
In retrospect, I should have known, given the book's title, that my expectations were too high. There are other, better children's books about art.