Ok, it's a stretch to allude to William F. Buckley's seminal book, but that's what popped into my head as a headline when I read the press release for a show opening this month at the Museum of Biblical Art in New York. Titled Louis C. Tiffany and the Art of Devotion, the exhibit aims to reveal a side of Tiffany that is understudied, under appreciated and largely unexamined.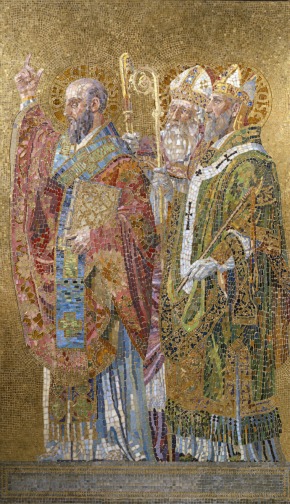 Yet, for many years, Tiffany received many commissions for stained-glass windows, altars, and other ecclesiastical objects as well as his lamps, secular windows, and jewelry. He was famous at at time when the number of churches in America was growing tremendously — more than 4,000 between 1890 and 1906, according to MOBIA's press release. In 1889, even before that boom, Tiffany had actually established an ecclesiastical division at his firm. "What Tiffany had done for home furnishing he began to do for houses of worship," the museum says.
Louis C. Tiffany and the Art of Devotion  brings together 83 mosaics, stained-glass windows, liturical objects and works on paper, plus promotional materials — many never or rarely seen in public before. They are loans churches as well as from museums like the Charles Hosmer Morse Museum of American Art in Florida; the Cooper-Hewitt, National Design Museum; the Corning Museum of  Glass; and the Met, among others, plus private collectors. 
Fathers of the Church, at right, comes from the Neustadt Collection of Tiffany Glass in Long Island City. Tiffany created this mosaic for the 1893 World's Columbian Exposition in Chicago — part of an elaborate chapel for liturgical works including windows, candelabra, and crosses. This display received 54 awards –
more than any other exhibitor – "and won Tiffany Studios international fame for its religious work."  It hasn't been seen publicly in years. 
The liturgical suite at left comes from Cobble Hill Church in Brooklyn, and draws inspiration from medieval Siena.
If these are representative of the entire exhibition, it should be a wonderful display.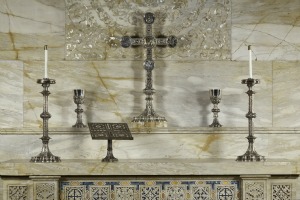 Tiffany's religious works did have a small showing last year, however. The Taft Museum in Cincinnati mounted an exhibition called In Company with Angels: Seven Rediscovered Tiffany Windows — seven 8-foot-high stained-glass lancet windows, representing seven angels that Tiffany made in the late 1890s as a commission for a Swedenborgian church in Cincinnati. When the church was demolished in 1964 to make room for an Interstate, parishioners — fortunately — saved the windows. "They are on a national tour to help pay for their conservation and upkeep," says the Taft. Maybe they are coming someplace near you.
The art world full of discoveries these days, as it ought to be. That's what makes it interesting.
Photo Credits: Courtesy of MOBIA