Most museums — in my opinion — should have their own special identity, something different that makes visitors want to visit them, instead of simply going to a universal, encyclopedic museum like the Met. When I visited Cincinnati, I loved seeing the regional Ohio art on display at the Cincinnati Art Museum, and when I visited the Milwaukee Art Museum, I headed straight for its German collections — not just the Expressionism, but the earlier genre paintings, too. Even though I live in New York, I can't see those kinds of works on display here. Then, I see the rest of their permanent collections.
But especially in contemporary collections, we see a lot of cookie-cutter approaches to buying art since the 1960s, at least.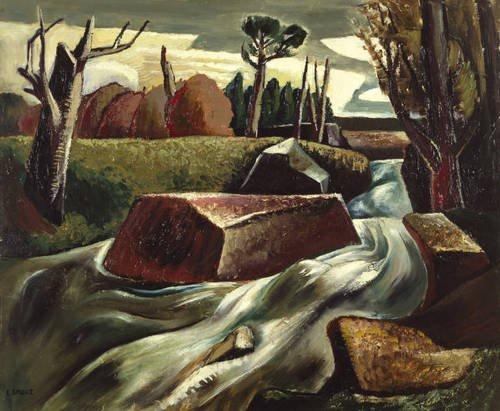 So I both applaud the Dallas Museum of Art and chastise it, a bit, for an effort it is making regarding Texas art. The bad first: why did I have to find out about it on my own, instead of receiving a press release — as I do for the museum's exhibitions, staff changes, etc.? I'd rather know about this effort, which is unique, than the press release I received recently about a grant to research visitor engagement.
NOTE: Dallas tells me it did send me the press release on Friday, though I never received it. We have to blame email gremlins…
Now the praise: Dallas has unveiled on its website something called the "Texas Exhibition History" — a  complete list of titles and dates for exhibitions of Texas art presented at the Museum since 1909, and part of its Texas Art section of its website.  This project apparently began two years ago when the museum was awarded a grant by the University of Texas at Dallas Texas Fund for Curatorial Research, to continue studying the Texas art acquired before the Dallas Museum of Fine Arts merged with the Dallas Museum for Contemporary Art in 1963 to form DMA — which now owns those Texas works. 
Here's the link to the project, where you'll learn more about Texas artists. 
There's more to come:
Coming in spring 2013, the DMA website will add another new section to "Texas Art" detailing the evolution of the Dallas art community after 1963. "Dallasites: Charting Contemporary Art, 1963 to Present," also funded by the Texas Fund for Curatorial Research, will establish the DMA as the primary archive in North Texas for contemporary art.
I can't say whether any of the artists in the database deserve national attention, but if they do, they would make the DMA distinctive. And wouldn't it be great if the museum discovered some underappreciated talent?
Above is a painting, picked at random, by Everett Spruce (1908-2002) called Swollen Stream.
Photo Credit: Courtesy of the DMA