No one wants to go now! Without it, we really don't have a reason to go to the museum.
So said one Stephanie Morgan, a 30-year-0ld research epidemiologist and resident of Bedford-Stuyvesant, to a Wall Street Journal reporter the other day.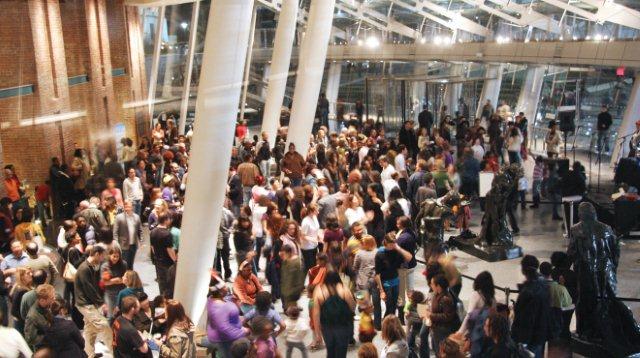 You may have guessed the sad truth in that statement: she was talking about the dance party that has been part of the Brooklyn Museum's Target First Saturdays for years — the evenings that bulk up the museum's somewhat erratic attendance. (Back in 2009, figures the museum gave me showed that nearly 20% of its full-year attendance came on the 11 First Saturdays sponsored by Target.) But a week or so ago, the Brooklyn Museum "pulled the plug" on the dancing in the galleries, citing overcrowding in the third floor galleries.
No specific damage was disclosed in the blog post that carried the announcement:
while the attendance is growing, our building is staying the same size, and we've run into some challenges with capacity crowds and traffic flow throughout the building….[so] we are going to put the dance party on hiatus for the time being. This was not a decision we made lightly. 
In its place:
You'll see new things like artist-led participatory activities, site-specific performances, and intimate issue-driven discussions
The museum said it was being proactive, rather than "waiting for a problem to happen."
Brooklyn has always maintained that there are plenty of art activities on First Saturdays — and there are — but the question has always really been why people come. Morgan told the WSJ that she and her friends have gone every month "for years" and now they won't? I say good riddance — they can dance elsewhere; they can't see Brooklyn's art collections and exhibitions elsewhere.
Brooklyn says it'll bring the dance parties back, but I actually hope it doesn't — at least not for some time. Let things shake out. Let's see who comes now and in what numbers.
Photo Credit: Courtesy of Timeout New York