First, the good part: Bernini: Sculpting in Clay, which opens officially tomorrow at the Metropolitan Museum of Art,* is a beautiful and very satisfying exhibition. It helps answer the question that comes naturally about masters and masterpieces: how did the artist do that? By bringing together about 40 of Bernini's "clay sketches" and about 30 of the drawings Bernini made for some of his most famous works — the Four Rivers Fountain in the Piazza Navonna in Rome, the angels on the Ponte Sant' Angelo there, among others — visitors will gain a window on how this genious transformed his ideas into reality.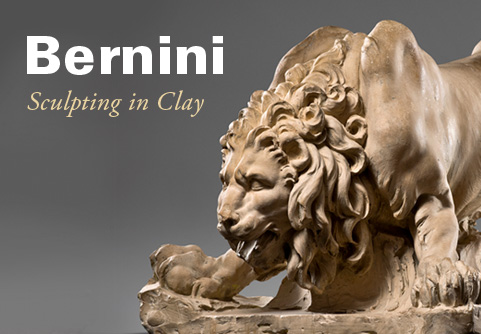 These terracotta models have never been shown, the Met says in its press release, which is a mystery. They are wonderfully expressive; it's a good thing they are in vitrines, because they cry out to be touched. They deserve to be seen.
Here's another mystery: some 15 of them, if my memory serves, were borrowed from the Harvard Art Museums — all acquired in 1937. The Harvard museum's online collections database lists 25 of the 28 Bernini pieces in its collection as being acquired that same year — with the notation "Alpheus Hyatt Purchasing and Friends of the Fogg Art Museum Funds." Hyatt, a paleontology professor at Harvard, died in 1902; he must have left a bequest. That's a guess.
I asked a couple people at the opening reception, and a few guessed that the legendary Paul Sachs was behind the purchase; he was, a search discovered, the associate director of the Fogg at the time. It could have been. Whoever it was made a great decision.
The Met, which installed this Bernini exhibition in the Lehman wing, also created exemplary educational materials to accompany the show. One large wall is covered with an explanation of using clay and modeling — it even tells us that terracotta clay is 14% water, but it never dumbs down; the text is illustrated with several photos, showing the tools Bernini would have used, the marking he made and how he used those points to create the correct dimensions for his sculptures, and so on.
Which brings me to my criticism: it's hard to take in all the works and the information (especially when a reception in the Petrie Court upstairs is beckoning), and so today I went online hoping to review some of the didactic material from the show. But — so far at least — there's nothing on the Met website from that great explanatory wall.
The website does offer the show's video, "Bernini's Transformation of Rome," but it seems to me that the Met has missed an opportunity here. How much effort would it be to take the same info that's on the walls and put it up on the web? Today, I couldn't even check whether that 14% figure is correct, let alone spend more time digesting all one could learn about terracotta sculptures.
Maybe that's coming.
Photo Credit: Courtesy of the Met
*I consult to a foundation that supports the Met