Just in case you're seeking indoor shelter or solitude or just relaxing on this Labor Day weekend, I have a piece, plus a sidebar, in today's Wall Street Journal on the Islamic art market. A lot has been happening in the art world regarding Islamic art — not just the opening of the Metropolitan Museum's newly refurbished Islamic galleries last November and other museum gambits, but in the market, too. That's mostly in London and hasn't received the attention it deserves.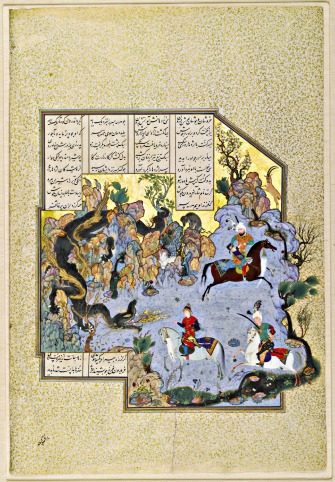 As major collector Nasser D. Khalili, an Iranian-born businessman and philanthropist, told me:
Twenty years ago, there would be 20 magnificent pieces and four people buying. Now there will be four major, important pieces if you're lucky and 50 people buying.
There's more coming in the museum world and the gallery world, and you'll hear about it. So you might familiarize yourself with the situation — here's the link to my article and one to the sidebar. Together, they have four items that will be up for sale this fall — a bowl, a ewer, a manuscript and a child's sword — all worth a look.
In the interest of not repeating, I'm posting here the item that holds the world auction record for any Islamic work of art: an illustrated folio from the famed Shahnameh, a 16th-century manuscript (also known as the Book of Kings) chronicling Persian history, which sold at Sotheby's in London in April 2011 for  just under £7.4 million. That price, which includes the buyer's premium, far exceeded the presale estimate, which was estimate: £2-3 million, not including the commission.
It came from the famed collection of Stuart Cary Welch, a scholar-curator, and drew seven bidders, who competed for almost ten minutes. The buyer remains anonymous.
Photo Credit: Courtesy of Sotheby's