Forget former gallery-owner-turned-museum-director Jeffrey Deitch as an outlier: The George Eastman House has gone even farther afield in hiring a new director: Bruce Barnes, whose appointment was announced last Thursday, has never served in a museum and has no formal art history education. He was, on the other hand, the CEO of Element K, a Rochester-based online learning company, and has worked on Wall Street. His PhD, from the University of Pennsylvania, is in economics, as was his undergraduate degree.
…From February 1997 to March 2000, he served as a Managing Director of Wasserstein Perella & Co., Inc. and a Senior Member of its merchant banking group since September 1998. He served as an Executive Vice President of Ziff Brothers Investments, L.L.C. from January 1995 to June 1996. Prior to that, Dr. Barnes served at Ziff Communications Company, the holding company for a predecessor of Ziff-Davis, as Senior Vice President and Chief Financial Officer from September 1993 to December 1994 and as Vice President and Special Assistant to the Chairman from November 1992 to September 1993….
He has also, and perhaps still is, a director at a couple of companies.
What's going on here? The Eastman House has been looking for a director since July, 2011, when Anthony Bannon announced his decision to retire in a year's time. It's unclear how they found Barnes — probably a search firm — but, reading between the lines, it seems that his vision sold the board. He wants to take the Eastman House's fame international, which will build on Bannon's work that made it national.
Barnes does have relevant experience. After leaving Element K, he founded  the American Decorative Art 1900 Foundation, a private foundation based in New York. He is the sole trustee, according to public documents, and works there 20 hours a week.
The ADA1900, according to the Eastman House's press release, "works independently and in collaboration with museums across the United States to foster understanding and appreciation of American decorative art from the period around 1900."  Barnes co-wrote The Jewelry and Metalwork of Marie Zimmermann (2011), which was copublished by ADA1900 and Yale University Press. And ADA1900 copublished The Artistic Furniture of Charles Rohlfs (2008), "an award-winning scholarly book that accompanied an exhibition of the same title co-organized by ADA1900 and the Milwaukee Art Museum. The exhibition traveled to the Dallas Museum of Art, Carnegie Museum of Art, Huntington Art Collections, and Metropolitan Museum of Art." With his partner, writer Joseph Cunningham, listed as director of ADA1900 on its website, he has through the Foundation has given gifts of decorative art to 14 museums (listed on the Foundation's home page).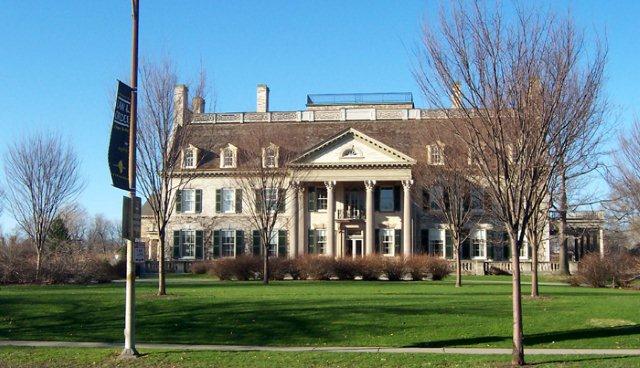 Looking at ADA1900's 2011 990, Barnes has also done a little dealing — the foundation sold four Charles Rohlfs dining room chairs that he had donated to a collector last fall at an appraised value of $90,000, for example.
Aside from his own donations, ADA1900's notable financing came from the Fairfield County Community Foundation ($70,00o) in the year ended last Dec. 31. It has net assets of $1.6 million and expenses of about $325,000 last year. No salary for Barnes was listed, so presumably he took none.
Nothing wrong with any of this, but it is interestingly non-traditional. The Eastman House says it expects Barnes to create "more worldwide traveling exhibitions and an enhanced virtual museum online." His own statement is included in the aforementioned press release.
The hirer in situations like this never knows how the hiree will turn out. Running a museums is different from running a business — not to mention working on Wall Street — but Barnes definitely has relevant skills. He seems to be entrepreneurial — and that's good. He sold a vision, and that's good. He has already lived in snowy Rochester, so he can't complain. He might  be just the ticket.
I wish he had some notable interest in photography, however, which many people still do not accept as a fine art. That's a place where Barnes's past focus on decorative arts will not help.
However, Bannon was a risk 16 years ago, too: He has a BA in biology, a Master's and PhD in English, had worked as a newspaper critic before joining the museum world as director of the Birchfield-Penney Art Center in Buffalo. He recently returned there, as director of a much large institution now.
For my hometown's sake, I hope Barnes fulfills his promise. Kodak itself is in dire straights, and today came more news that the Rochester Philharmonic is also in trouble.
Photo Credit: Courtesy of the George Eastman House