When I worked at The New York Times, tour groups would sometimes be escorted through the newswoorm, and the members would stand there watching reporters and editors work. We simply sat at our computers or talked on the phone — and I never understood why anyone would want to take a tour of the NYT (this was after the presses were moved out of W. 43rd St.). I felt the same way when I worked in television: basically, there's not much to watch. What we do goes on mostly in our heads.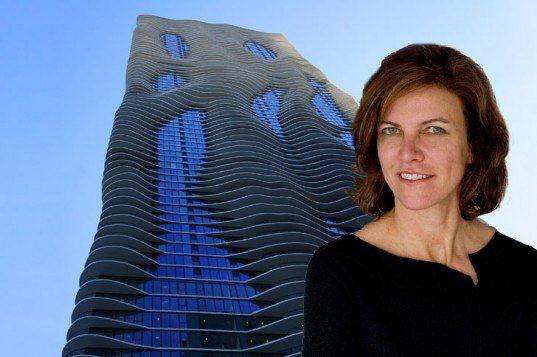 I was reminded of this when I read about the Building: Inside Studio Gang Architects exhibition that opened this week at the Art Institute of Chicago. Jeanne Gang, founder of the firm, MacArthur "genious," and designer of  the beautiful, undulating Aqua Tower, an 82-story highrise in Chicago (among other things), is the subject of the show, along with her team. But most of what they do goes on inside their heads, too — doesn't it?
Maybe a lot less than at a newspaper. The Chicago exhibition — self-described as "innovative" in the press release — is not a survey or retrospective. It promises to show the practice "in an engaging workshop-like environment that reveals the practice's creative processes as they seek to answer pressing contemporary issues through architecture" and consists of two interrelated parts:
The first functions as a gallery with projects illustrated through a range of materials from sketchbooks and models to photographs, plans, and other drawings. This space will also feature a special series of installations, also designed by SGA, dedicated to the studio's material research and formal explorations.

The second section of the exhibition replicates a workshop, complete with a large worktable, pin-up boards, full-scale mock-ups, and material samples. This space is a key component of the presentation and will serve as the location for two Archi-Salons–public programs that will further connect and place the work in the exhibition within the larger field of architectural discourse.
They are scheduled for Oct. 6 and Nov. 7 — details at that link above.
First admission: I haven't seen the exhibition. But architecture exhibits tend to attract good crowds, and this one sounds to me like on worth paying attention to. I haven't yet found reviews, but here's one local article that gives an on-the-ground report.