Remember that mislabeled Picasso gemmaux portrait discovered in the basement of the Evansville Museum of Arts, Science and History?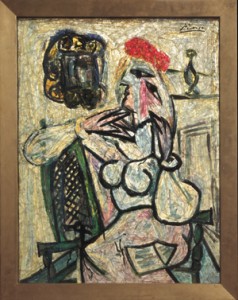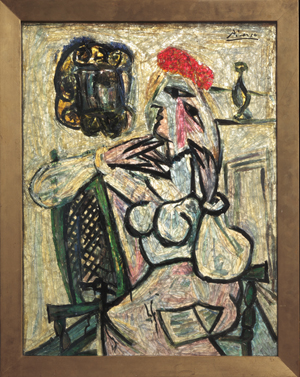 The other day, USA Today caught up with the news and added two interesting tidbits, one of which shows the dynamics of some museum boards. One might explain the other, but not in a satisfactory way, to me at least. First, the reporter managed to get a price estimate for the work from Guernsey's, the New York auction house that discovered it and will sell it: Femme Assise au Chapeau Rouge is estimated at $30- to $40 million, according to Arlan Ettinger. Some people think that's high, however. (And so do I, from afar, but you never know.) At the time of the gift, in the late sixties, it was appraised for tax purposes at $20,000.
Second, the story quotes John Streetman, the museum director, saying: "I wanted to show it, but the president of our board came up with a list of good reasons not to."
The article says the board debated the picture's fate internally before announcing the discovery, but it seems that the board, led by a president named Steve Krohn, a lawyer and businessman, had their eyes on the money — the museum's endowment totals $6 million. He told the reporter: "It would have cost too much money to insure and to adequately protect. We might have had to hire additional security and make changes to the physical plant that we couldn't justify for one item. We made the only prudent decision."
Call me skeptical,  but I think he's exaggerating. I'm with the local who said,  "Something that's been there since '68, to right away take it to where no one's going to see it again? I'd say keep it and put it on display a year or two, then sell it. But that's just me."
With money from a sale — which will be private, not at auction, Guernsey's has said — the trustees can rest on their fund-raising laurels, which is a pretty seductive reason to sell.
Photo Credit: Courtesy of the Evansville Museum