The Getty Trust's chief executive, James Cuno, recently confirmed to The Art Newspaper what everyone has been thinking, that the Getty will organize a sequel to Pacific Standard Time, its broadly successful effort involving 68 exhibitions that changed perceptions of Southern California art.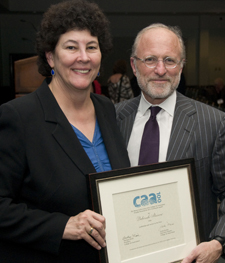 He said it will be come "in "five or six years' time," and that conversations were starting with its lead partners on PST: the Museum of Contemporary Art in Los Angeles; the Los Angeles County Museum of Art and the Hammer Museum at UCLA.
That's about what Deborah Marrow (with Cuno at left), the director of the Getty Foundation, told me in March: "Everyone is eager to keep the collaboration going," she said, "No one wants to lose momentum." (To refresh: The Getty spent more than $11 million over the last decade on grants that started out simply preserving the archives of L.A. artists but ballooned to be much more, eventually involving performances, exhibitions at commercial galleries, and an 11-day festival as well as museum exhibitions.)
"It is a high priority to do it again, because it was such as success," she said. PST exceeded expectations by many measures — the quality of the exhibitions, several of which are unexpectedly traveling to museums as far afield as Australia; the excellence of the catalogues; the luster given, or restored, to artists, some of whom are suddenly getting exhibits or representation in New York galleries.
PST, though, did not always lead to expected jumps in attendance. I did a survey of more than a dozen participating museums for The Art Newspaper, and discovered mixed results. From my story in TAN (which is not online yet):
Several had small or no increases, including:
Orange County Museum of Art: about 11,000 visitors, "about normal."
Museum of Latin American Art: 17,685, visitors, up over 25% vs. the previous five months, but short of the 20,100 who came to see Siqueiros landscapes in 2011.
Palm Springs Museum of Art: 46,000 people, down slightly from 2011 period (which had more free days).
Laguna Art Museum: 7,374 visitors, up 35% vs. a year ago but level with 2010.
Fowler Museum: up 6%, compared with the same period the previous year.
Huntington Library, Art Collections, and Botanical Gardens: 41,270, "among the best for a special exhibition in the past ten years, though the run was also a month longer than average."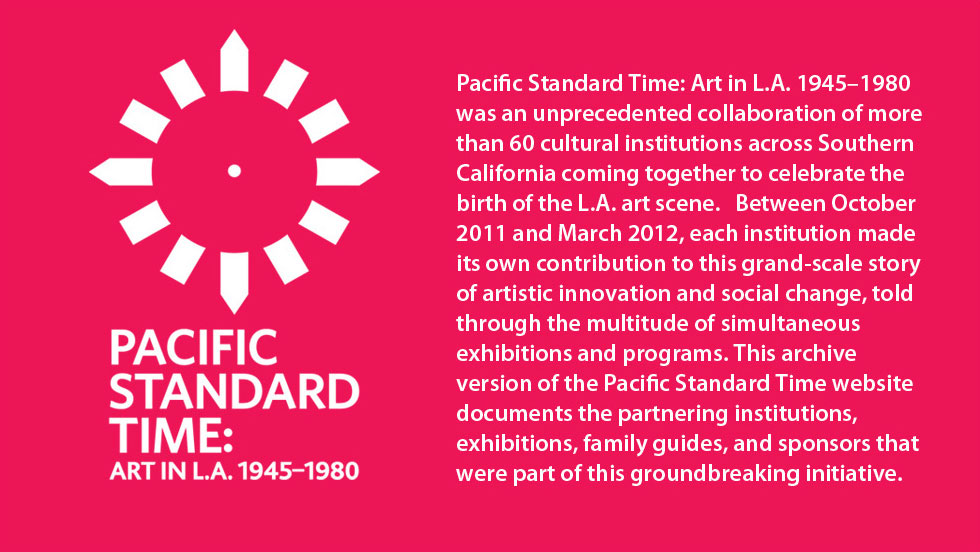 Others fared better:
Santa Monica Museum of Art: about 25,000, "more than we've ever had for one exhibit."
Vincent Price Museum: 4,473 visitors, more than double the usual attendance.
Museum of Contemporary Art, San Diego: "It heavily outpaced typical attendance during that time period."
American Museum of Ceramic Art:  5,358, "higher than usual," which would have been about 4,500.
Los Angeles County Museum of Art: its five PST exhibits "definitely brought in more visitors," but not evenly, and with no record-breakers.
Chinese American Museum, up about 8.5%.
Almost everyone I contacted was happy with PST, though, and they all underscored the added media attention. "One of the biggest benefits was having journalists like Roberta Smith from The New York Times and Peter Plagens from The Wall Street Journal come to review our PST exhibition," Susan Golden, of the Museum of Latin American Art, said — echoing others. Bob Bogard, marketing director of the Palm Springs Museum, said coverage ranged as far as a Dubai inflight magazine and Brazil's Elle. Several museums say they are now collaborating on marketing with nearby museums.
On attendance, Ron Nelson, director of the Long Beach Museum of Art, was the unhappy outlier. "I expected that we would have triple what we had," he said –but got only a slight increase in visitors. "We were one of the original 13 grants, but the number kept growing and it diluted the effect. It was an embarrassment of riches."
Interestingly, the lack of a universal attendance boost is not deterring the Getty (unlike some other museums we know). Although Marrow did not place a PST sequel above other top goals at the Foundation –like an initiative to train specialists to conserve panel paintings — she said it was a high priority. Since 2002, the Foundation has devoted, on average, about 10% of its grant money on PST, and I would guess that's a good guide for the future.
But she dismisses the notion that PST could be staged every year, as some have hoped. It was the long gestation time, which allowed for solid exhibition research, that made PST a success, she said, a point echoed by museum directors. Still, she cites several exhibitions about modern architecture in Los Angeles, including "Overdrive: L.A. Constructs the Future, 1940—1990" at the Getty, as the next PST initiative, set to take place April through June of 2013. Last year, the Getty split about $1 million in research grants for these shows among seven museums, including the Hammer Museum at UCLA, the Museum of Contemporary Art and the A + D Architecture and Design Museum. It's also planning for a month of "concentrated" programming on L.A. architecture.
It's a no-brainer for the Getty to say that it's not going to let the brand die — for all those reasons and perhaps one more, a point made by Hunter Drohojowska-Philp, the author of "Rebels in Paradise: The Los Angeles Art Scene and the 1960s. PST, she said, "has even silenced the critics of the Getty, showing that it is solidly connected to its city."
Photo Credit: Courtesy of the College Art Association (top); of the Getty (bottom)