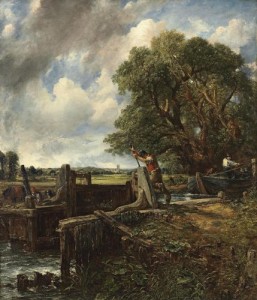 Christie's had John Constable's "The Lock" on stage at tonight's auction for just over a minute — and that's not a plus.
The bidding was started at £17 million, increased by £500,000 increments, and it was all over — two bidders, I think, but it's hard to tell from viewing online — at £20 million. That was the low estimate, but does not include the premium. I leave that for Christie's to figure out for us and disclose post-sale.
Why the painting failed to bring more money — and more bids — will have to wait for post-sale analysis. The high estimate was £25 million, and I heard from someone recently in London that "word on the street is that a Russian left a bid of  £25 million." I'd heard mention of even higher prices. Sometimes rumors like these scare bidders away. Or maybe people don't like the seller's motivation.
I watched some other lots sell, and several soared past estimates, though not in the eight-figure range.