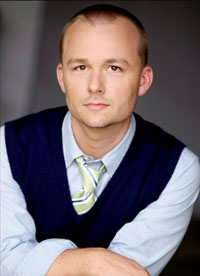 School is about to start in some places of the country and at some levels, so it seems like a good time to go back to some news released about a month ago: On Wednesday, James Hart, an award-winning actor, director and producer will take up his post at Southern Methodist University, in Dallas, as the first Director of Arts Entrepreneurship, an Assistant Professor of Practice in the Division of Arts Management and Arts Entrepreneurship, at SMU's Meadows School of the Arts.
The new position is part of what SMU says is both new and unique in the U.S. — an arts entrepreneurship program at the college level. It's a minor, not a major.  Meadows's dean, José Antonio Bowen, said in a press release at the end of June: 
The creation of this undergraduate minor is one of Meadows' most significant curricular initiatives, giving our students the opportunity to learn how to turn their artistic dreams into sustainable business plans. Audition skills are not enough! With the appointment of James Hart – an artist and educator with extensive experience in the fusion of arts and entrepreneurship education – the Meadows School is already positioned as the leader in this new and critical field.
I would agree on that. Again and again, we've seen the "talent" (as everyone says in TV so why not here?) rise into management, and sometime they mess it up. That was one excuse cited recently for the dismissal of Edward Villella as artistic director of the Miami City Ballet, as this article in the Miami Herald says. (Sample sentence: "The ballet had a deficit of over $1.5 million, and was in one of the worst financial crises in its history." But who really knows?)
Bowen said he hired Hart because he " s the owner, founder and former dean of TITAN Teaterskole (The International Theatre Academy Norway) – a full-time professional theater training program and the first school in Europe to offer intensive training in arts entrepreneurship at the professional conservatory level." There, "His teaching method stresses the importance of students' development of entrepreneurial and business skills in addition to traditional arts techniques."
Others have tried to instill management or simple business skills in artists, but not in the same way. SMU believes it's starting something that will become routine
As for Hart, a Dallas native. he has taught at the Yale School of Drama, New York University, the Lee Strasberg Theatre Institute, Tufts University, Fu Ren University in Taipei, Taiwan, Harlem School of the Arts, University of Massachusetts at Amherst, and Kirkenaer Ballettskole (Oslo), among others, his bio says.
He has also "directed classics of Shakespeare, Chekhov, Marivaux, Gogol, Miller and others, including a large number of world-premiere productions. He has also directed several films…[is] producing The Voice Within, a documentary about master acting teacher and former head of acting at the Yale School of Drama, Earle Gister. As an actor, Hart has performed in a number of venues including the Williamstown Theatre Festival, Yale Repertory Theatre, Utah Shakespearean Festival, Dallas Theater Center, Shakespeare Festival of Dallas, St. Louis Shakespeare Festival, Theatre Alliance in D.C., and in St. Petersburg, Russia and Taichung, Taiwan. Hart earned his M.F.A. in acting from the Yale School of Drama in 1999 and graduated from SMU with a B.F.A. in theatre in 1996."
Good move, SMU.