It's pretty obvious that museums — and most other places as well — chase the young. They see gray hair in their galleries and fear that no one will replace them if they don't do something about it NOW.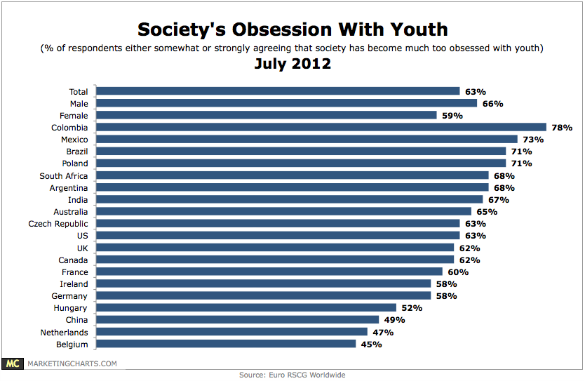 I've always had some doubt about that — many people, I believe, don't have the time for art or the inclination for it until they reach a certain age, which — anecdotally — seems to be somewhere in the 40s, give or take, after most people's children have developed some independence.
Now comes a survey which agrees that society is too youth-obsessed. According to a firm called Euro RSCG Worldwide, which survey people in 19 countries, "63% of consumers around the world believe that society's obsession with youth has gotten out of hand."  Results in the U.S. clocked in at exactly 63%, though the response ranged from 78% in Colombia to 45% in Belgium.
"Interestingly," an article on Marketing Charts said, "this view is shared by 6 in 10 Millennials (aged 18-34)."
7,213 adults took part in the survey, but ages were not stated in the report, nor was the margin of error.
This survey was more about aging itself — e.g., "55% of the respondents said they look younger than most people their age" — than it was about choices. But it still makes me wonder. Older people — and here I mean 40s and above — seem to resent the attention given to young people, even perhaps at some museums. Museums have to deal with that, making sure that they present a balance of activities and, with luck, a lot of programming that appeals to all ages.
I really love it when I go, say, to the Frick or the Morgan and see people of all ages. And I dislike it when I see costume exhibitions full of young people who never set foot in art exhibitions. Likewise, with diverse audiences for both, say, Jacob Lawrence and, say, Titian.
Chart Courtesy of Marketin Charts