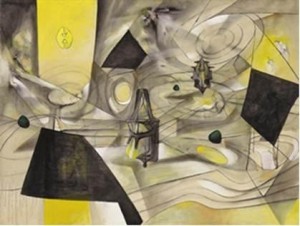 Christie's sold $27.7 million worth of Latin American art this week. There were 299 lots in the evening and day sales combined, and 84% of them sold by value while 74% sold by lot. Matta achieved a world record price, $5 million for a work, La révolte des contraires (at right), which had been estimated at $1.8 million to $2.5 million.
And there's more, some evidence for the theory I floated in early May about the contemporary sales — that people are literally buying because they can set a record. Not just conspicuous, but ostentatious consumption, in other words. In the evening sale, 13 new records were set. In the day sale, another 20.
That means that almost 17% of the lots were record-setters. Here's a list of them. The price numbers are obviously much smaller than those in the contemporary art sales, and a couple of the artists had never sold at auction before, so they were bound to set records unless their works were bought in.
I think some of this money is looking for a safer investment home than the rocky stock markets, as well as buying to show you can. Interestingly, Christie's also observed that in the evening sale, "Brazilian works performed exceptionally well and were 100% sold." Brazil's steamy economy has slowed a little of late.
Photo Credit: Courtesy of Christie's