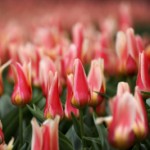 Time for spring break, and with yesterday being Easter, it's the perfect moment to think about flowers. I do every spring, but this year is special because I wrote about a once-a-decade event, the Floriade, which takes place in the Netherlands. It began in 1960, then took place in 1972, and has happened every ten years since. It's gigantic exhibition of flowers, and as I wrote in an article that's printed in today's Newsweek International (and posted on the Newsweek-Daily Beast website in the U.S.):
..it's not just about tulips, the country's symbol. "It's everything," says Debbie Van Bourgondien, who calls herself "the Bulb Lady" (that's trademarked) and who with her family owns Dutchbulbs.com in Virginia Beach, Va. She has gone to the last three Floriades. "If you are looking for the latest trends in gardening, the latest varieties, you'll find it there," she says. This year, there are 1.8 million bulb plants, 190,000 perennials, 18,000 shrubs, 15,000 hedges, 5,000 roses, and 3,000 newly planted trees of 250 species, plus fruits and vegetables. At the last Floriade, held in 2002 about 10 miles from Amsterdam at Haarlemmermeer, Van Bourgondien recalls being charmed by all the new miniatures on display. "I now have pots of miniature hostas around my patio," she says.
I won't go on, because most RCA readers come to my blog to read about the arts, not flowers. But public gardens — and the Floriade — are grappling with many of the same problems that dog museums: aging audiences and the need to widen their appeal. The Floriade did that this year, but not exactly in ways I'd recommend to most art museums.
 Photo Credits: Courtesy of CBS News (top) and The Telegraph (bottom)