Leaving aside the List Visual Arts Center, we don't usually think of the arts as foremost at the Massachusetts Institute of Technology. But today it announced a forward-thinking inititative — a new Center for Art, Science & Technology — intended to propel MIT's goal of integrating the arts into its curriculum and research. CAST, as it will be known, is "A joint initiative of the office of the Provost and the schools of Architecture and Planning (SA+P) and Humanities, Arts, and Social Sciences." Evan Ziporyn, a music professor of Music, has been names as CAST's inaugural director.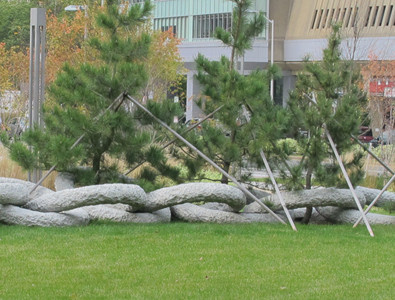 The Mellon Foundation provided $1.5 million in funds over four years for the center, which will be used to give
awards to faculty, researchers and curators seeking to develop cross-disciplinary courses, new research or exhibitions that span the arts, science and technology….supplement[s to]  MIT's existing Visiting Artists program…to embed artists' residencies in the curriculum and create a platform for collaboration with faculty, students and research staff in the development, display and performance of new and experimental artwork or technologies for artistic expression.  In addition, the grant will support the participation of graduate students and postdoctoral fellows in the activities of the Center. 
MIT, meanwhile, has pledged to mount "a major, bi-annual international symposium on art, science and technology," with the first set for the 2013-14 academic year.   CAST will be part of the Office of the Provost, which signals it as a priority, I think.
A year ago, MIT held "FAST, the Festival of Art, Science and Technology" as part of its 150th anniversary celebration, and published a report called "The Arts at MIT." CAST builds on that. (There's more in the press release here.)
All of this is great; my only worry is that $1.5 million may not go that far.
Other art things are happening at MIT, too. On May 3, the MIT Museum will open the1,650 sq. ft. Kurtz Gallery for Photography, whose first exhibition will show 75 photographs by Berenice Abbott, plus letters and documents — Photography and Science: An Essential Unity.
And on May 10, MIT plans to dedicate Ring Stone by Cai Guo-Qiang — a monumental white granite sculpture and his first public work for a university. (There's another picture here.)
Consisting of twelve "individual, but indivisible links cut from a 39 1/2-foot-long single block of white granite" — and weighing about 14 metric tons — the piece will be accompanied by seven Japanese Black Pine trees, planted inside the rings and nearby. It will be positioned on the lawn of the MIT Sloan School of Management, observing the principles of Feng Shui. Cai Guo-Qiang will give the keynote speech at MIT's China Forum the same day as the dedication.
I'm sure there's much else going on at the List Center, too, under its new director, Paul Ha.
Photograph: Courtesy of MIT