Art21 is in the news today, and not in a good way — according to various reports, the National Endowment for the Arts is planning to cut the funding it has supplied to this self-described "chronicler of contemporary art and artists."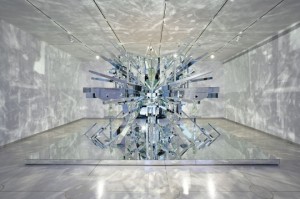 I was going to blog about it sometime soon anyway, because Season Six of "Art in the Twenty-First Century" makes its debut on PBS on Friday at 9 p.m. (although, as they always say "check your local listings").  Season Six
includes 13 profiles of artists from five continents gathered into four, one-hour thematic episodes: Change, Balance, History and Boundaries. Spanning the globe from Nigeria to New York City, from Beijing to Brazil, the programs reveal the artists at work and speaking in their own words as they demonstrate the power of art to alter perception, challenge convention, and change how we see the world around us.
That's a tall order. The artists vary widely, from Sarah Sze to Ai Weiwei, from Marina Abramovic to Robert Mangold, from El Anatsui to Mary Reid Kelley, from Rackshaw Downes to Glenn Ligon. And more. There's a short clip for each of the shows here, plus  lots of other images/background material. And the press release.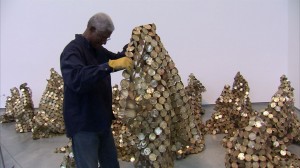 I watched only the four-minute trailer for the season, with excerpts from each artist. Can you guess which one said, and I'm sometimes paraphrasing slightly:
My work is about change, regeneration, bringing about new.
I get very possessive about my places and I don't want any other artists coming around here to paint them.
People prefer to be positive about history and they always want something from it.
It's important for an artist to fnd the right tool.
Art is about new possibilities.
I really like the idea that natural wildlife survives in this intense metropolis.
I try to build an object complex enough to start feeling like it's alive.
What I'm committed to is not love of painting but love of the idea of making ideas.
Rather than my influence coming from nature, it comes from culture, the history of art and the culture of our times. 
I'll update with the answers sometime soon — but feel free to leave your answers in the comments section below.
Meantime, I suspect Art21 could use more public support — watching and, if you like what you see, giving.
UPDATE — THE ANSWERS:
El Anatsui
Rackshaw Downes
Mary Reid Kelley
Marina Abramovic
Ai Weiwei
Sarah Sze
David Altmejd
Glenn Ligon
Robert Mangold
Photo Credits: David Altmejd's "The Eye" (top), El Anatsui making "Change," bottom; Courtesy of Art21