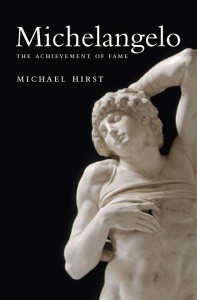 James Hall —  a freelance art critic and historian who has written two books about Michelangelo — ends his review of Michelangelo: The Achievement of Fame in Saturday's Wall Street Journal with this note: "…biographers will undoubtedly be redrawing Michelangelo for many centuries to come."
Nonetheless, the book in question, by Michael Hirst, a London-based Michelangelo scholar, is long-awaited and does seem to have its virtues. I enjoyed several of Hall's observations and anecdotes, presumably drawn from Hirst. The review tells us, for example, that Michelangelo's magnificent David (1501-04) was made from marble that "had been lying around in the cathedral workshops since the 1460s after a previous attempt to carve a statue." Michelangelo recycled the abandoned block.
And who knew that Michelangelo was as busy writing letters in his day as people using Twitter today? Hall writes:
There are around 1,400 surviving letters to and from the artist (Saturday was his letter-writing day), as well as memorandums, contracts, bank-account details, poems—even the odd shopping list. He is easily the best documented Renaissance artist. Most of the letters and memorandums were given to the city of Florence in 1858 by Michelangelo's last descendant, but on condition that they not be copied. It was only in 1964 that this stipulation was lifted. The material has now been published in eight big scholarly volumes, the last of which appeared in 2005. The restoration of the Sistine Chapel from 1980 to 1994, and of many other works, has also furnished masses of new information.
This book deals with Michelangelo's career up to 1534, when he moves permanently to Rome at the age of 59 to paint "The Last Judgment." Known for his crankiness, Michelangelo had to help support his brothers and fathers, although he falsely claimed noble heritage. "Michelangelo preferred to think of himself as a self-made genius," but while "we still don't know who taught him how to carve," Hirst shows that the artist learned a lot in the studio of Ghirlandaio, which he entered at age 13, and — says Hall in the review — "The younger artist was hugely indebted to Ghirlandaio's painting methods and his workshop organization, with its careful division of labor. When painting the Sistine Ceiling, Michelangelo initially had six assistants, virtually the same number as Ghirlandaio used for his major fresco cycles. "
We also learn that Michelangelo's "first sculpture, "Bacchus," was rejected by the cardinal who had commissioned it—no doubt because this god of wine really does look very tipsy" and that "It was the St. Peter's Pietà (1498-9), made for the tomb of a French cardinal, that made his name. It is the only work that Michelangelo signed, and he did so with a lover's boldness, on the strap that passes between the Virgin's breasts. From then on, he was never seriously short of commissions or money. His perennial problem was making realistic proposals, completing work and knowing when to say no."
Hall's review of the book is lukewarm, saying it lacks "passion and vision." Hence, the first sentence of this post. But if you're curious about the artist's life, the "day-to-day detail," Hirst's 438 pages, published by Yale University Press, are for you. And a second volume is planned.