One more post on Maastricht: there were so many wonderful things there that I don't want to try to single out "the best." But I do have a favorite booth, that of the Weiss Gallery of London. It didn't have "the best" art, but it did make a lasting impression. Here's a picture of what you saw as you approached, dead on.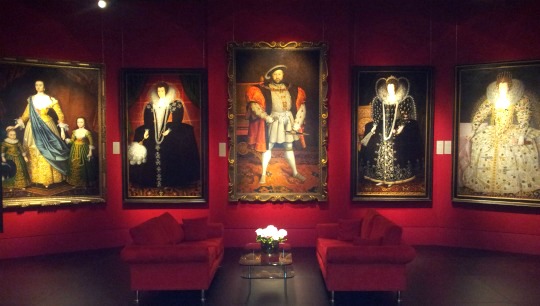 Across the top, Weiss inscribed "Tudor and Stuart Portraits from the Collections of the English Nobility and Their Great Country Houses."  Those red walls were sumptuous, and the paintings seductive (partly because of their costumes). I smiled when I saw the booth.
I realize that this art isn't for everyone (what art is?), but … all together, these portraits are simply wonderful to see. Many are unattributed; others are by minor artists, but that's not the point. "Never before has a commercial gallery offered for sale so many early Tudor and Stuart portraits of such distinction and importance, all of which are notable for their distinguished aristocratic provenances," Mark Weiss says on the gallery's website.
Weiss acquired many of the works at last year's house sale at Cowdray Park in West Sussex, whose contents, auctioned by Christie's, fetched £7.9 million over three days.  Those works were supplemented by portraits, sold by Sotheby's, that were once owned by the Earls of Elgin and the Marquesses of Ailesbury, plus a few others. One, "The Family of Adrien de Witte, Lord of Buerstede and Welken" by Hieronymous Francken the Elder, came from an American collection.  An adorable "Young Boy, Aged 3, with Kolf Club and Ball," dated 1603, came in from a British private collection just a short time before TEFAF-Maastricht opened, no doubt put on offer by someone who could see the impact of being in this group.  
The centerpiece in the picture above, the Ditchley Henry VIII (English school, circa 1600-1610), sold within the first hour of the fair. It had an asking price of £2.5 million. This morning, Mark Weiss answered my email request for these photos and his results with the news that he had sold "a large Flemish family group" to a Turkish client — that must be the Francken mentioned above, which is seen, in part, on the left in the picture below — "and a major Dutch museum has reserved the magnificent pair of Cornelius Johnsons." He added that "yesterday we sold all three Howard ladies (Catherine Carey Countess of Nottingham and her two daughters Elizabeth and Frances Howard) to just one Russian client!"
Readers may see that Catherine Carey on the Weiss website — where you can also find an e-catalogue with photos and information about most of these works.