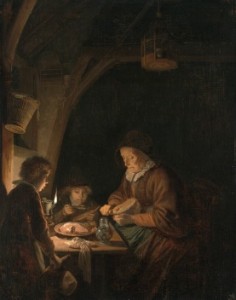 This Saturday, the Museum of Fine Arts in Boston will open an exhibition that is, at least in one way, a model — because of the lenders' behavior. It involves Rose-Marie and Eijk van Otterloo, about whom I have written a couple of times, most extensively in a 2009 article in The Art Newspaper.
Now, fresh back from a four-museum international tour that included about 60 of their stellar Dutch Golden Age paintings, 40 of the works will be shown at the MFA — and this is the key part — integrated with the MFA's 17th century Dutch and Flemish paintings collection.
The exhibition is called Complementary Collections, Rose-Marie and Eijk van Otterloo and the MFA. The point of course is to allow comparisons and contrasts that will deepen visitors' understanding of the work of these artists, including Rembrandt, Dou and Jacob van Ruisdael. In other instances, the van Otterloos will be lending works by artists, such as Aelbert Cuyp and Hendrick Avercamp, who are not represented at all in the MFA's collection.
In the press release, not yet posted online, the MFA qualified that last phrase with "yet." That's an example of hopeful thinking, since the van Otterloos have not said where they will give their collection, though they have said they do intend to give it. As I have written before, it's the MFA's to lose. This is an excellent moment for the MFA to show how it would care for the pictures.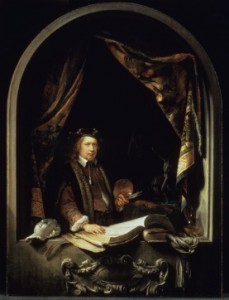 From where I sit, the van Otterloos have been excellent collectors not only for the careful and scholarly way they went about amassing their art, but also because they always seem to care more about the art than about themselves.
A short time ago, in an exchange on Facebook, members of an art group to which I belong were going over the case of the Linsky collection at the Metropolitan Museum.* According to the terms of the 1982 gift by Belle Linsky, the 380 objects she donated must always be segregated in galleries of their own, where they still remain. As a result, for example, the Met cannot hang two panels from the same altarpiece, acquired separately, near the piece given by the Linskys. That's just one example of how such bequests mess up museums and art history. There are other examples at other museums (yes, I know, there's also the Lehman wing at the Met). 
The van Otterloos don't do that, thankfully. As a result, visitors to the MFA will see, for example, the museum's Old Woman Cutting Bread (top) by Gerrit Dou right near the couple's Self Portrait by Dou (1655 and 1665, respectively). They won't have to chase from one to the other somewhere else in the museum, trying to remember as much as they can about the painting they just left. I, for one, am grateful.
The exhibition remains on view at the MFA until June 24.
Photo Credit: Courtesy of the Museum of Fine Arts, Boston
*I consult to a foundation that supports the Met