Sculpture rocks nowadays. That's the one-line summary of a long article I've written on contemporary sculpture, published in the March issue of Gotham magazine.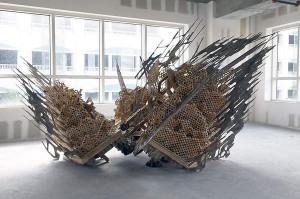 You may or may not have noticed that, as you've wander galleries, but a lot of people, viewing it from different standpoints, think it's true — galleries, art advisors, academics, and so on.  "Some of the strongest work being made today is sculpture," art advisor Mary Hoeveler told me.  Joseph Seipel, dean of the arts school at Virginia Commonwealth University, called this "a really experimental age for sculpture."
There are many, more detailed, explanations for the buoyancy of contemporary sculpture, all in the article, but the overarching, or underpinning, rationale is two-fold: "sculpture" now encompasses so many materials, from wax to glass to found objects to feathers to metals and more, that the opportunities for creativity are endless. And equally important, so many artists today do not consider themselves "painters," "sculptors," "installation artists," etc. As Seipel put it, "They're just artists, and if they have a three-dimensional idea, it's a 3-D piece; if it's virtual, they do that; and if the idea works best with paint on a canvas, they do that." And let's face it, this is a 3D world for younger generations in particular.
This freedom is good, but it does have a downside that I did not cover in the article: it's something I began thinking about after the piece went to print, as I re-read some notes I'd made talking with three different museum directors over the last six or so months. To varying degrees, they had each voluntarily mentioned or agreed that a lot of contemporary art is not well made. It's probably because artists switch materials and disciplines so frequently that they don't master the medium.
That, obviously, creates enormous conservation issues and doesn't bode well for the future of some sculpture.
Photo Credit: piece by Diana al-Hadid (who's in this article), Courtesy of the Hammer Museum, UCLA