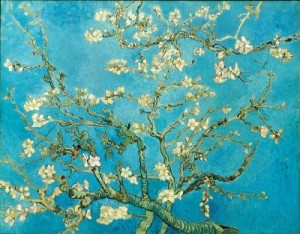 The final picture in van Gogh Up Close, now on view at the Philadelphia Museum of Art, is his "Almond Blossoms," an ever-beautiful and poignant picture to me, as he painted it in honor of his namesake nephew. I was horrified in December when an email landed in my box from a commercial art reproduction business saying it was its No. 3 best-seller last year, behind van Gogh's "Starry Night" and his "Cafe Terrace at Night."
It's not that I don't believe in posters (as long as they are faithful representations). It's that "Almond Blossoms" was available not only with the blue-sky background of the original, but also with red or yellow backgrounds. I'm not kidding. But there's nothing one can do about it.
Then yesterday I learned of an effort to mock the kitsch related to Gustav Klimt — sort of. According to an AFP story, repeated in Auction Central News, the  Wien Museum has started a "Worst of Klimt" campaign, inviting people to post on its Facebook page "the most horrible or most absurd Klimt products."
This is even more bizarre, because it seems to reward people for posting outlandish objects as well as those who make them, which only encourages them. Says the article:
The museum said that the best—or worst—objects might feature in its Klimt exhibition that opens on May 16, one of a flurry of shows planned this year in the Austrian capital to honor the painter.

The posters of the 10 objects causing "the most controversy, discussion or approval under the Facebook community between now and March 15, will be rewarded with a joint exclusive guided tour through the exhibition," it added.
It's all part of the 150th birthday celebration of Klimt's birth.  I suppose we should view this as light-hearted fun. Funny, I don't mind the Klimt stuff. I do hate to see that red "Almond Blossoms." But I guess we should be grateful that it takes van Gogh's name to more people, even if they're getting a wrong impression of his work.