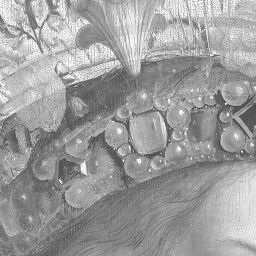 Of all the art works in the world, the Ghent altarpiece is one of the most admired — and now it will perhaps be one of the most studied, certainly the most studied from afar.
The Getty Foundation on Friday announced that it was making available a website that will allow deep technical study of the 1432 work by Hubert and Jan can Eyck. Viewers can zoom in and look at all of the oak panels in macrophotography, infrared macrophotograpy, infrared reflectography and x-radiography.
Here's what the Getty did: "Each centimeter of the altarpiece was scrutinized and professionally photographed at extremely high resolution in both regular and infrared light. The photographs were then digitally "stitched" together to create highly detailed images which allow for study of the painting at unprecedented microscopic levels. The website itself contains 100 billion pixels."
Those high-definition digital images are now available to all on a site called Closer to van Eyck: Rediscovering the Ghent Altarpiece. You can zoom in and you can dispay different any two images from the panels side by side. I pasted an example at the bottom of this post, an image using digital macrophotographs (left) and digital infrared reflectograms (right).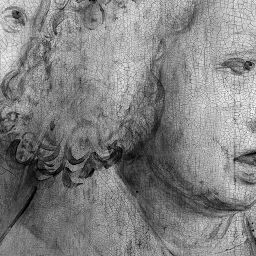 The site takes some getting used to: it sometimes takes a little time to load the images. When I played with it today, though, I was able to go behind the picture, so to speak. The image upper right is the virgin's crown in infrared macrophotography, while the image at left here, is an infrared reflectography image of part of the singing angels' panel.
While I enjoyed my exploration, I think the site will be most useful to scholars, which is a good thing.  (There's a good 'how to use this site' section.)
 The photography was made possible by a dismantling of the altarpiece for emergency conservation work. But it will also inform the comprehensive cleaning/restoration that begins next September.
The Getty paid for much of the website, but the whole project is a collaboration with the Royal Institute for Cultural Heritage, Lukasweb, the Vrije Universiteit Brussel and the Netherlands Organization for Scientific Research.
Last July, when the Getty's study was underway, the Los Angeles Times had this to say by way of background.