The reopening of the new and improved Islamic art galleries at the Metropolitan Museum* last fall is just one of many recent initiatives to expose us all to Islamic culture — so many that they all cannot be chronicled here. But I was intrigued by the focus of an exhibition at the British Museum, which opened last week and runs until Apr. 15: it's called "Hajj: Journey to the Heart of Islam." It's forbidden territory, since only Muslims may enter Mecca, the destination of the hajj. How was this to be depicted? This is the first exhibition to try, according to the press release.
The British Museum needed help, despite its giant collection — and got it from the King Abdulaziz Public Library in Riyadh, Saudi Arabia. Together they organized the show around three major strands: the journey, especially the major routes used by pilgrims over time from Africa, Asia, Europe and the Middle East; the contemporary hajj today, including the rituals involved and the meaning of the experience; and Mecca itself, namely the origins and importance of a place that is forbidden to most of the viewers.
The BM borrowed much of the material on view, including a seetanah, which covers the door of the Ka'ba (the black cube Muslims believe was built by Abraham and his son Ishmael), from Saudi Arabia, and many objects from public and private collections around the world, including the British Library and 45 objects from the Islamic collection of  the Khalili Family Trust (which, at some 20,000 objects, claims to be the largest and most comprehensive Islamic collection in the world).  Says the BM:
Together these objects will evoke and document the long and perilous journey associated with the pilgrimage, gifts offered to the sanctuary as acts of devotion and the souvenirs that are brought back from Hajj. They include archaeological material, manuscripts, textiles, historic photographs and contemporary art. The Hajj has a deep emotional and spiritual significance for Muslims, and continues to inspire a wide range of personal, literary and artistic responses, many of which will be explored throughout the exhibition.
I have no plans to visit Britain during the show, unfortunately, but I was able to see some of this on line from press materials and the BM's site.   
So, here is "Panoramic view of Mecca," by Muhammad 'Abdullah, the Delhi cartographer, Probably Mecca, c. 1845: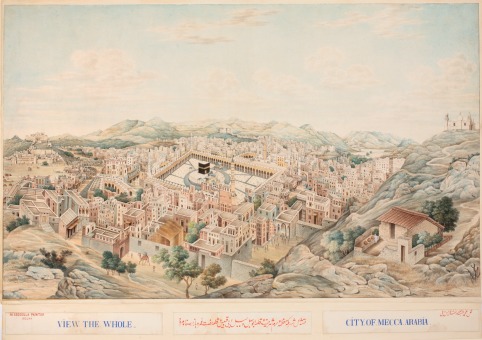 And here is "View of the sanctuary at Mecca," 17th or 18th century.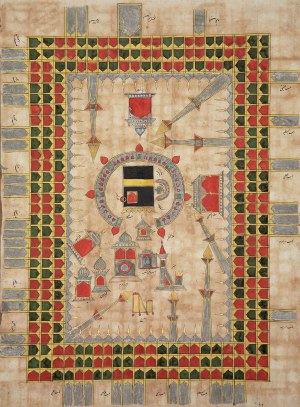 It's hard to tell, from here, exactly what we are missing, and this show doesn't seem to be traveling. But BM helps a little — this is expected nowadays — it has placed some material about the exhibit on its website, including a little video and "Hajj stories" from contributors. 
Not like being there, of course.  
Photo Credits:  Courtesy of the Khalili Family Trust
*I consult to a Foundation that supports the Met