As I've said before, two's company — so once again I'll mention something because there've been two instances in a very short time.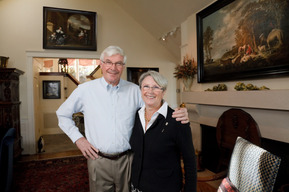 On Tuesday came the news from the Institute of Contemporary Art in Boston that, for the first time in its history, both the Director and Chief Curator positions were being endowed. Jill Medvedow will now  be known as the Ellen Matilda Poss Director and Karen Molesworth will be the Barbara Lee Chief Curator.
Today, the nearby Peabody Essex Museum announced that its director had also been endowed. Dan Monroe will be the Rose-Marie and Eijk van Otterloo Director and CEO of PEM, thanks to an eight-figure gift from "the Most Important Collectors You've Never Heard Of" — a total overstatement of a headline, which I did not write! They are pictured in their home above right.
Since that article, in any case, the van Otterloos' collection has been on tour — I saw it again recently in Houston — and the couple is far from unknown.
Their gift is part of the PEM's $650 million capital campaign, which went public in November. So far, the museum has raised $570 million, $20 million more than announced at the time. All from the van Otterloos? We don't know. But you can read more here.
At ICA, meanwhile, the gifts are part of a $50 million campaign, more than half of which has been committed — including 10 seven-figure gifts, according to its press office. This will certainly help Boston continue the development of a vibrant contemporary art scene.
Time was, Boston was dogged by a reputation for stingy donors. But these gifts, plus the many given to the Museum of Fine Arts there, as well as the Isabella Stewart Gardner and the Harvard Art Museums — all in the course of a decade — should change that.
Don't good things come in threes? I'm expecting another big gift announcement any day now.
Photo Credit: Courtesy of PEM