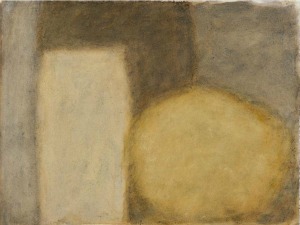 When I visited Italy in November, I spent a day in Bologna, and among the places I visited was the Museo Morandi. I am something of a Morandi fan, and I enjoyed seeing the well-rounded collection of his work, with many landscapes, for example, as well as still lifes.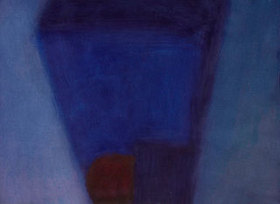 But the real revelation from my visit was not about Morandi. The museum regularly mounts temporary exhibitions for artists whose work relates to Morandi, and the exhibition I saw was for a wonderful artist I've never heard of: Alexandre Hollan.
He's Hungarian, born in Budapest in 1933, but there is very little information about him online, and the press kit I was given is entirely in Italian, I am sad to say (I do not speak it). I do know that Hollan left Hungary after the 1956 revolution for Paris, and he discovered Morandi at an exhibition there in 1964. I am not sure if he is still there.
But here's a hint about his work: the show in Bologna is called Silences in Color, and it's very well titled. The relation to Morandi's work seemed so uncanny to me that, while Hollan's exhibit is situated between two wings of Morandi's work, at first I wasn't even sure it was a different exhibit. Yet while strongly influence by Morandi, Hollan remains original.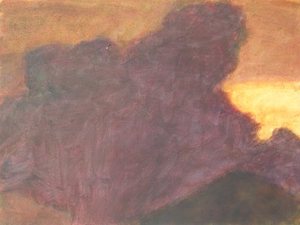 Hollan's colors are every bit as subtle, but somehow are also richer. Many of the works are still lifes that overflow the boundaries of the paper, edging into the abstract. Mostly, he makes watercolors, gouaches, and drawings. The works on view, until Feb. 5, were made between 1984 and 2010.
Unfortunately, I could not copy (from the press area) any images from the exhibit; but you can see several here (click to enlarge the thumbnails). I found one on another website, and it is at left (top).
UPDATE: I have now received images from the museum. Those at the top left and bottom left are drawn from this exhibition.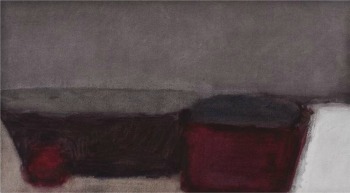 Continuing my search, I found a few more online: The one at right was in a show at a Parisian gallery in 2009, reviewed here, while the other two one came (Three Trees is the name of the purply one, above) from bloggers' sites.
These samples overrepresent his use of blue, though. I loved the wine-colored and subtle yellow ones that you can see on the museum's website.
The exhibit's catalogue shows that Hollan has had many solo exhibits in Europe, but none in the U.S. Likewise, his work is in the collections of many museums in France, Germany and Hungary, including the Pompidou, but none in the U.S.
Who will bring him here?