Beginning today, the Cincinnati Art Museum is letting everything show — a slight exaggeration.
The museum's collection comprises about 60,000 objects, spanning six millenia, and like most museums, it keeps most of those works in storage.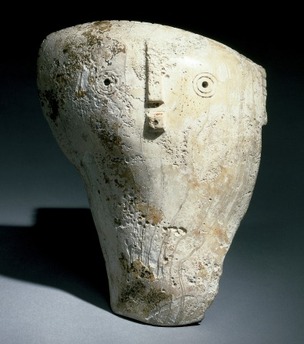 But it's pulling more of them out now, some 1,733 pieces, and cramming them into 10,000 sq ft of gallery space. About 85% were not on view before, and many have never been on view. They'll be displayed, often, in open storage – on shipping crates, on racks, and in storage cabinets, adapted for visitation. At least one gallery is hung salon-style, with paintings floor to ceiling.
Throughout the whole museum, only about 6% of the collection is usually on view — that is, 3,600 pieces, including antiquities, decorative design, paintings, textiles, and prints — items from Greek lions to Native American art (maybe this shell mask, from Tennessee, unknown date?) to fine silver — and "all reflect[ing] the very best of art history," the museum touts. By comparison, one of the museum's wings normally shows about 400 objects in 18,000 sq. ft. (according to Wikipedia; I could not obtain a better number). This display will show depth as well as breadth. For example, in place of the six Japanese tea pots and saki bottles normally on view, there will now be more than 100.
Called 6,000 Years, the exhibition will be expanded in the spring, doubling the number of objects on display, according to the press office.
Aaron Betsky, the museum's director, noted in a press release that "we felt it was time to start bringing some of these great images and objects out. Other art museums have open storage facilities, but we believe that none of them have made the art this accessible. We wanted them to be as easy to see as possible…"
At a time when museums have fewer resources to organize scholarly exhibitions, this is a good tactic. It will remain on view, with some rotation, through 2013.
I recently praised the Cincinnati Art Museum for its new "taste of" gallery, as well for "discovering," in its storerooms, a musical instrument collection, but I have also criticized its Wedded Perfection exhibit of wedding apparel and its show of circus posters. The first two were the most recent, so I'm hoping the CAM is on an upward trend.
Photo Credit: Courtesy of the Cincinnati Art Museum