The Peabody Essex Museum in Salem, MA, took a big step into the future last night: at a fundraising gala, director Dan L. Monroe (below) announced the "launch" of a $650 million fundraising campaign. That's a bit of a mischaracterization, though, because the money-raising has been going on since 2006 — that was the "quiet period," as fundraisers say, and the PEM has already received or received pledges for $550 million of that total.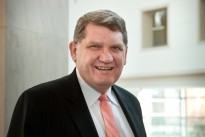 This is big news, with a very admirable component: $350 million of the total — more than half — will go into the museum's endowment.
As we have seen at other museum expansions, too much emphasis has been placed on raising money for buildings, and not enough for sustaining the museum. Kudos to Monroe and PEM trustees for getting it right. Once that full $350 million has been added to the current $280 million endowment (by 2016), PEM's endowment will total $630 million. That's hefty.
And there's more: $100 million of the new funds will go to "support creative new installations of the collection, several infrastructure improvements to existing facilities and other advancement initiatives," according to the press release. PEM's collection current exceeds 1.8 million objects.
That leaves $200 million for expanding PEM's buildings. Galleries will grow by 75,000 sq. ft, with 60,000 for the permanent collection (if I've done the arithmetic properly) and 15,000 for changing exhibition galleries. The museum is also adding a new restaurant and a roof garden (love that!), plus public program and education space. It will also improve its "collections storage, exhibition processing and conservation functions."
Rick Mather Architects, of London, has been hired to do the job. Mather is known for its work on the Dulwich Picture Gallery, the Wallace Collection, the National Maritime Museum in Greenwich, the Ashmolean Museum in Oxford, and the Virginia Museum of Fine Arts here in the U.S.
PEM announced no names of donors — and no naming gifts — but spokeswoman April Swieconek tells me " that sort of thing will come later."
When the press release goes out tomorrow, I'll link to it.
UPDATE: Here's the promised link.
Photo Credit: Courtesy of PEM