As I've been away, I've got a lot of catching up to do — it's amazing how much can happen or be written about in the art world in just five days.
Let's start with a headline that intrigued me: The Accidental Art Mogul. I quickly learned that the moniker was given to someone who deserves attention — the art dealer Marian Goodman. Writing in Newsweek magazine, Blake Gopnik shines a light on a gallerist (the term she prefers) whose track record of showing artists that matter, early in their careers, not after everyone else has discovered them, is an open secret in part of the art world — but who gets much less attention that showier dealers who follow taste or, rather, the money.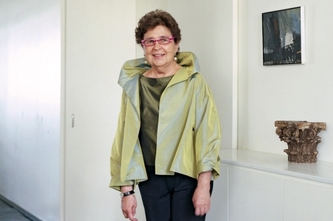 Goodman, meanwhile, has roster of artists that includes Gerhard Richter, William Kentridge, Jeff Wall, John Baldessari, Julie Mehretu, Thomas Struth (his picture of her is at right), Tino Sehgal, and many more. Not all are my taste, but they are (mostly) serious artists.
As Gopnik writes,
Kerry Brougher, deputy director of the Smithsonian's Hirshhorn Museum in Washington, calls her a "curator's dealer": "It's not enough for her just to sell it to a private collection for a great amount of money. The art has to be out there where the public can see it." Brougher says that he's actually heard Goodman complain when art prices rise. At a recent dinner for one of her artists, Goodman sat at a head table that included curators, artists, a critic, and various other culturati–but not a single collector.
And:
Almost every big contemporary gallery is funded by the blue-chip old works they sell out of the back room, while Goodman almost never sells works that her artists haven't made. "It's all front room," says Tate director Nicholas Serota. "It's an achievement to build a gallery on those terms." Where other major galleries seem to have a supermarket approach, with something to feed any billionaire's habit, most Goodman artists conform to one vision. "There's an ethos in the gallery that you don't find in many others," says Serota. Goodman spots good work by young artists who seem likely to matter–the Jeff Walls of this world–and then sticks by it.
Have a look at some works she has sold here.
Goodman isn't very accessible to the press, and that's part of why she has gone unrecognized. To some editors (and I've tried), she's a hard sell for that very reason. So kudos to Gopnik for getting her to talk and to Newsweek for printing it.
Photo Credit: Courtesy of Marian Goodman/Thomas Struth via Newsweek