Two noteworthy items from the Cleveland Museum of Art: today, it announced the acquisition of what it calls "an outstanding American neoclassical work by the renowned 19th century sculptor Edmonia Lewis" — Indian Combat — which it says "ranks among the most ambitious of all free-standing American neoclassical sculptures."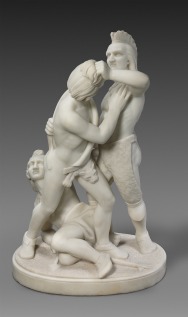 Adding to the attraction, the piece is a "rediscovery." It had been in the collection of a Massachusetts family since the 1950s, the museum said, and "remained unknown to the art world until it surfaced late last year." And:
Indian Combat depicts three Native American men engaged in spirited–yet graceful and balletic–combat with each other. Very few examples of neoclassical sculpture feature more than two figures, and virtually no other work exhibits such a complex integration of multiple protagonists. Conceived fully in the round, Indian Combat's dynamic composition encourages the viewer to circumnavigate the piece in order to discover the details of the action. Having carved the marble herself–without the use of assistants that was the custom at the time–Lewis rendered a wide variety of complex textures, which can be seen in the moccasins, animal hides and loin cloths worn by the figures.
Who is Edmonia Lewis? Born circa July 4, 1845, to parents of Haitian, Ojibwa and African descent, she somehow managed to study at Oberlin College, apprenticed in Boston, and then spent the bulk of her career in Rome. "Her studio became an important destination for wealthy Americans and Europeans on their Grand Tours, several of whom became patrons," the museum says. She died in September, 1907. You can find other examples of her work in the Newark Museum and the Smithsonian American Art Museum.
When I first met David Franklin, director of the Cleveland Museum, shortly after he took the job last fall, he told me that he would only acquire objects that would displace something already on view. Or, as chief curator Griffith Mann said in the press release for this purchase, an acquisition that "builds on the museum's commitment to collect works of art that are both seminal to the careers of individual artists and also significant benchmarks in the history of art." Especially for a museum like Cleveland, which has a sterling collection, this makes sense.
The other announcement from Cleveland came to me last week, and was recently posted on its website. The museum plans to deaccession 24 European sculptures at Christie's on Nov. 22.
This is also progress. It's a sign, if a small one, that more museums are disclosing, in advance, their deaccessions. Often, in the past, people found out by reading the small print of auction catalogues. Or, in other cases, when a gallery was used as the seller — never really found out at all. Earlier this year, I chastised some museums — including Cleveland — for being sneaky about deaccessions. If there's nothing to hide, and this is good museum practice, why hide it?
I won't presume to judge the wisdom of selling these sculptures. But here's a sign: I added up the high estimates for all 24 pieces: $389,300 — all told. The biggest lot is a Madonna and Child, "after Benedetto da Maiano," circa 1442-1497, estimated at $60,000 to $90,000.
Photo Credit: Courtesy of the Cleveland Museum of Art