Pacific Standard Time: Art in L.A. 1945-1980 just keeps getting bigger and bigger.
When I last checked in with it, on August 11, the multi-venue art extravaganza started by the Getty Trust to celebrate the birth of the Los Angeles art scene in the '60s, PST involved 60 cultural institutions. They had an amazing roster of exhibitions.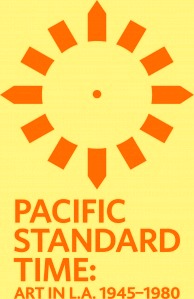 Today, PST organizers announced that more than 70 private art galleries in Culver City, Santa Monica, West Hollywood and the Greater Los Angeles area will join in, staging more than 125 exhibitions. This truly looks to me to be what the press release actually says, an "unprecedented cultural collaboration."
Focusing on the years immediately after World War II right through the 1960s and 70s, the galleries — which include Blum + Poe, David Kordansky, LA Louver, to name just a few — will present Pop art, Minimalism, assemblage, ceramics, political graphics, printmaking, conceptual art and much more.
Museums and galleries don't always mix in public (though galleries often link their shows to museum shows — right now Achim Moeller is showing Lyonel Feininger, as is the Whitney, for example). But as Andrew Perchuk, Deputy Director of the Getty Research Institute, said in the PST press release:
Galleries played a critical role in L.A.'s post-war art scene. These spaces gave artists venues for experimentation and innovation and created a much-needed community for artists and patrons at a time when other resources for artists were scarce in Los Angeles.
Considering the vast subject, and how large the effort is, this collaboration between the public and the private seems to pass muster, at least with me.
The list of participating galleries is not yet online, but it will be soon — at the link in the first line of this post.