In tomorrow's Wall Street Journal, I have a short Icon piece on an icicle that's in high demand.
That would be, of course, Dale Chihuly's Lime Green Icicle Tower, which is part of the Museum of Fine Arts, Boston's exhibition, Chihuly: Through the Looking Glass. As the museum's director Malcolm Rogers well knew when they programmed this show, it is very popular — sure to be the museum's fifth most popular exhibit when it closes on Monday, a day after the original planned closed. Chihuly's work is loved by a lot of people, even if art critics disagree.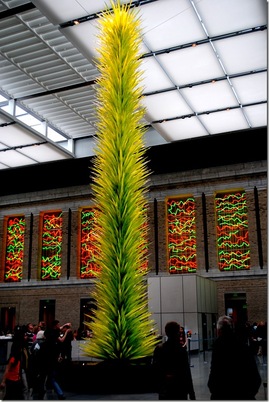 What made the icicle newsworthy was the MFA's public appeal for funds to purchase it — people kept asking Rogers if the museum would keep it, so they put a collection box nearby, sent an email appeal, and began a texting campaign. I've got more details in the story, which I won't repeat here. But other museums might learn from this.
Meantime, there are other things to say about this — and they are not necessarily good.
MFA has used public appeals for money to buy an artwork only twice before — once, in the late 1940s, when it received more than 700 donations to buy Paul Revere's Sons of Liberty Bowl, and again in 1979-80, when the Boston Athenaeum tried to sell Gilbert Stuart portraits of George and Martha Washington to the Smithsonian. Instead, with public support, the MFA reached an agreement to share ownership of the two works and rotate their appearances in the museums. And now, Chihuly…changing tastes? Or perhaps just opportunity knocking and a quick response. I think the latter.
Right?