On my recent visit to the Detroit Institute of Arts, I was rather amazed to find out that despite the state's and the city's deep troubles, which has meant a cutback in virtually all public money to the DIA, director Graham Beal keeps buying wonderful pieces of art. As Beal took me around the galleries, he stopped often to tell me that something was new. How was this possible, in these tough economic times?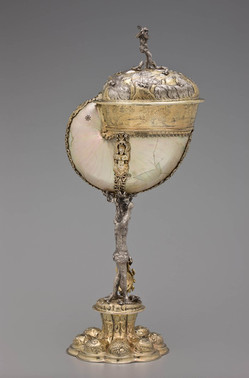 No mystery, actually: Detroit is one of those museums with a storied past and enlightened donors who left endowments specifically for acquisitions.
Unfortunately, times are so tough (the city lost 25% of its population between 2000 and 2010, and economic activity along with it), and the DIA has had to cut back quite a bit already, that Beal has had to go to the descendants of two of those donors to ask for relief. That's the story I wrote for the July-August issue of The Art Newspaper, which has not (yet) posted it online.
So please go take a look at the paper — among other things, you'll find out a few things he's been buying, including the nautilus pictured here.
But here's the gist: In 2007-08, the DIA's operating budget was $34 million; in the most recent year it had cut that back to $24 million. Since the late '90s, at least, the museum has operated in the black every year. To stay that way, about 16 months ago, Beal approached the descendants of one benefactor and asked if he could use the income generated by the benefactor's acquisitions endowment for operations. Beal notes that this very same donor had allowed the same move during the Great Depression, and his descendants quickly agreed. Beal declined to name the donors, but I believe from other reporting that it's the Ford family. Beal also sought and received permission from probate court.
A few months later, Beal asked the same question of the family of another deceased acquisitions benefactor, and members there also agreed.
The terms are five years for both agreements. Together, the two funds generate about $2 million a year, which will now be used for operations — money the museum won't have to raise. Keep in mind that, aside from Detroit's current woes, the museum had raised about $330 million to pay for its recent renovation and modest expansion, plus add to its unrestricted endowment, which now totals about $80 million. There is such a thing as donor fatigue.
I give Beal a pass on this move: the DIA's other acquisitions endowments still generate about $2 million a year for purchases, for one thing. For another, he went through all the right procedures with donors — after he had more than "trimmed" the budget. He's not invading the principal of the funds, just using income. He's not spending it on expansions. And the DIA has plenty of treasures — never enough, of course, but plenty. Plus, he didn't hide it.
The move was not ideal, in a perfect world, but museum staff and services, plus opening hours and all the other things that go into a museum, matter too.
I'm guessing other museums in the same situation may be doing the same thing. I hope they have followed similar procedures.
UPDATE, 7/18: My article is now posted online here.
Photo Credit: Courtesy of the Detroit Institute of Arts