Quite by accident the other day, I found an experiment on the Museum of Modern Art's website, which initially seemed so very disappointing. But looking further, it turned out to be an interesting, and maybe promising, exercise. It might even strengthen bonds between visitors and MoMA. And that would be a mighty accomplishment.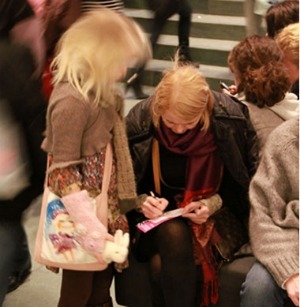 The feature is called "I went to MoMA and…" In it, the museum asked visitors to complete that sentence; MoMA then posted the responses on the web. Most of the ones I clicked on initially were irrelevant or vapid or both. For example:
I went to MoMA and "tripped over an exhibit and nobody noticed."
I went to MoMA and "I'm thinking about my future house and how I and my boyfriend will create it."
I went to MoMA and "thank Darrell for putting up with me."
I went to MoMA and "my eyes grew fat drinking in so much delicious candy. Yum!"
I went to MoMA and "my mood was yellow."
I went to MoMA and "I met my husband! I am forever grateful, dear MoMA."
You can see more here. Some people made little drawings, of an eye, flowers, and so on.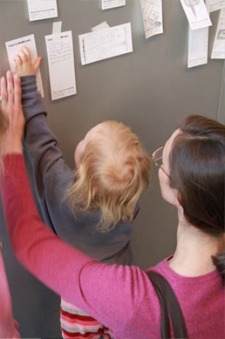 Looking at this, I was rather ambivalent and decided not to waste any more time. Then I clicked on MoMA's blog entry about the feature The writers, Brigitta Bungard, design manager in the department of graphic design, and Jillian Steinhauer, a freelance editor, had to have read more of the entries that I did — I hope. As they wrote:
Discussions about a favorite painting or reactions to the lines and rhythms of a work of art can help bring us together. It's refreshing, too, to experience a piece you've already seen from a different perspective–through the eyes of a grandfather who remembers when Pollock began dripping paint onto canvas, a mother who marched with the second-wave feminists, or a toddler who hasn't yet learned to revere Van Gogh for anything besides his colors.
The entries they highlighted (in a slide show) included a mother bringing her 12-year-old son to see AbEx works; a person having an "adventure w/ Grams;" someone who "saw Starry Night and the kitchen show and recognized a lot of it;" people who talked of getting up at 5 a.m. to get here from Boston just to see Starry Night, which made them cry; a woman who "experienced the unknown through my daughters eyes [sic]…;" someone who "never knew how inspirational it would be to my son with Asperger's…"; and so on.
Short as they are, those lines are powerful.
Recently, I mentioned that I was moderating a panel at the Toledo Museum of Art on "museums and memory" (an excellent show, btw, which is now posted online via YouTube), and this MoMA exercise is related. We all know that writing things down enhances our memory of them — MoMA is, I hope, encouraging people to make permanent memories of their MoMA visits and their experiences with art.
Photo Credits: Courtesy of MoMA