Paris may get a Frank Gehry museum after all. In February, French courts created some drama about the private museum planned by billionaire Bernard Arnault, chairman of the luxury goods company LVMH, which Gehry had designed. Arnault's $142 million building, future home of the Louis Vuitton Foundation for Creation, is located in western Paris, on the northern edge of the Bois de Bologne and adjacent to the Jardin d'Acclimatation, a children's playground operated by LVMH.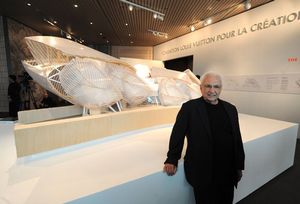 But some neighbors objected; they want the space to remain green. And they don't want this to be the start of more buildings in the bois, even if it's by Gehry.
Essentially, French administrative courts agreed, stopping construction on the glass-encased museum because a path near the gallery was declared to be a public right of way.
But last week I read on a Forbes blog that the French Senate had weighed in on Arnault's side. It passed a bill permitting construction to continue.
When it was announced in 2006, the opening date was to be 2009 or 2010. Now it's 2012.
One person suggested that Arnault, who plans to put both his private and corporate collections on view in the museum — with works by artists like Picasso, Elsworth Kelly, Richard Serra, Yves Klein and Agnes Martin — might have taken his multi-million-euro collection to Switzerland if construction did not resume.
As for Gehry, in February, he's been indignant, telling reporters that he was "distressed, shocked and furious" at the threat to his "magical" creation. French architect Jean Nouvel agreed, saying he was "outraged by the selfishness, lack of civic pride and ignorance" of the opponents.
I haven't seen any statements from either of them, or Arnault, since the Senate acted.
Photo Credit: Getty Images via AFP