I'm still in Britain, metaphorically speaking: Last week, the Daily Mail published an entertaining story about the Mona Lisa, stating that Leonardo implanted tiny numbers and letters in the eyes of La Gioconda — a real life da Vinci code — that may contain clues about the Holy Grail.
Reminds of the days when we (some of us, anyway) played the Beatles' recording of Revolution backward to find out if Paul was dead…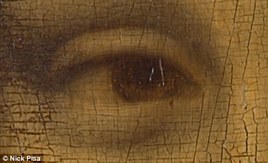 The new story has Silvano Vinceti, president of Italy's National Committee for Cultural Heritage, describing the symbols, which he said were invisible to the naked eye but clearly there when viewers deploy a magnifying glass.
In the right eye [at left] appear to be the letters LV which could well stand for his name, Leonardo da Vinci, while in the left eye there are also symbols but they are not as defined.

It is very difficult to make them out clearly but they appear to be the letters CE, or it could be the letter B.

In the arch of the bridge in the background the number 72 can be seen or it could be an L and the number 2.
Vinceti insists that the marks are not accidental, but definitely placed there by Leonardo.
Da Vinci put a special emphasis on the Mona Lisa and we know that in the last years of his life he took the painting with him everywhere.

We also know that da Vinci was very esoteric and used symbols in his work to give out messages.

Who knows, they may even ­possibly be a love message to the ­figure in the painting.
(I do wish Vinceti would call the artist "Leonardo," not da Vinci.)
Vinceti, the Daily Mail says, is also part of a group that wants to exhume Leonardo's remains, so they can determine if the Mona Lisa is a self-portrait.
I'm definitely against the exhumation, and I'm a skeptic about the letters/numbers.
After all, Paul still isn't dead…
If any Leonardo experts out there disagree, I would love to hear.
You can read the entire story here. 
Photo Credit: Courtesy of the Daily Mail