The reaction to my Cultural Conversation with Richard Kohalek, published two weeks ago in The Wall Street Journal, proved fascinating, not unexpectedly. While few people wrote comments for publication – only two at the WSJ site and none at my post here — several contacted me privately.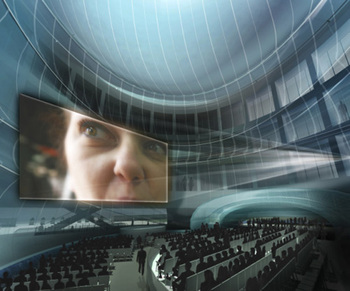 The article outlined Koshalek's plans to erect a seasonal bubble at the Hirshhorn Museum, which would serve as an event space, where the museum would convene forums on topics of interest to the arts and of relevance to national and world affairs.
Among those approving, one man wrote:
Your piece on Richard Koshalek captures a man of imagination, experience, and excitement. Let us hope it is encouragement for others in the space and indeed for all of us.
But there were far more negative comments. One man wrote from Menlo Park:
My guess is that the people that Koshalek is roping into this kindergarten prank don't know anything about art and maybe he doesn't either. Art saving the world? If it hasn't done it yet then it never will and it wasn't meant to. It is meant to give our personal lives meaning. This guy needs to be ridiculed not reported on.
When I asked if he would post his comment on either the WSJ site or here, I never heard back from him.
Likewise, another man wrote:
What a bs artist. "Look at me, look at me" is his message. I thought he was running a museum. Where is the adult supervision?
These comments, and most of the other feedback I've received, hinge on the definition of an art museum. One prominent art-world official, who spoke to me privately, had looked up the Hirshhorn's mission statement. So had I, before I wrote both pieces. It states:
The Smithsonian's Hirshhorn Museum and Sculpture Garden is a leading voice for contemporary art and culture and provides a national platform for the art and artists of our time. We seek to share the transformative power of modern and contemporary art with audiences at all levels of awareness and understanding by creating meaningful, personal experiences in which art, artists, audiences and ideas converge. We enhance public understanding and appreciation of contemporary art through acquisition, exhibitions, education and public programs, conservation, and research.
Thus it does give Koshalek room to do this, and he told me that his trustees and the Smithsonian hierarchy are all behind him.
Still, there's a nagging feeling among many that he shouldn't do it, that the money would be ill-spent, and the effort lead to nothing tangible.
When I asked Koshalek about the impact he sought, he cited the deals that grew from contacts made at the World Economic Forum. We won't know for years whether the Hirshhorn forums lead to such deals — and maybe never.
Photo Credit: Courtesy Diller Scofidio + Renfro