"Times are changing for the traditional exhibition catalogue," I write in the September issue of The Art Newspaper. It's a subject I've pondered before, but for the recently published feature, I dug much deeper, prying some rule-of-thumb numbers from sources and discovering several worthy experiments.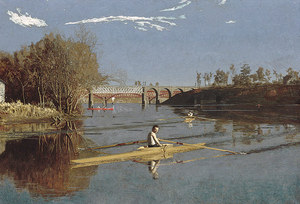 The Los Angeles County Museum of Art, for example, is offering a print-on-demand anthology of articles for its Manly Pursuits: The Sporting Images of Thomas Eakins exhibition, rather than a traditional catalogue. (His The Champion Single Sculls is at left.)
The Philadelphia Museum of Art produced no catalogue for its recent Picasso and the Avant-Garde in Paris, initially thinking it would publish one online, but later deciding to post a "gallery guide" allowing online visitors to "walk through" the exhibition remotely.
And, since 2002, the Brooklyn Museum has produced "mini-catalogues" for smaller exhibitions whose content and budget don't allow a traditional catalogue. These "grand brochures" are generally 6- by 9-inches, hard-bound, fewer than 100 pages, and printed on the museum's onsite four-color press.
Behind those experiments are factors like these:
Production costs – paper, ink, printing, binding and so on – for 10,000 copies of a 250-300 page book typically range from $150,000 to $250,000.
Add in the time spent by curators on research, writing and editing, the fees paid to outside authors, reproduction rights for dozens of images, design costs, distribution, and so on, and the actual cost per book can reach into three-figures. So they are all money-losers.
As few as 2% of people visiting an exhibition usually buy the catalogue. 5% is a big deal.
The more popular an exhibition is, and the more familiar the artist is, the lower the sell-through rate. That's because popular shows draw wider audiences, composed of regular museum-goers who may feel they know the artist and occasional visitors whose interest in art is less serious; apparently, neither category wants to shell out, say, $30 to $60 for a catalogue.
It's pretty clear that museums would like to dispense with these big catalogues, possibly in favor of e-books. They can't for two reasons — lenders to a big traveling show want a catalogue and reproduction rights for pictures online catalogues are more difficult to obtain.
What's emerging may be a hybrid, with a printed catalogue where some elements — like the checklist — are left out and available only online.
Or, back at LACMA, for California Design, 1930-1965: Living in a Modern Way, beginning in October, 2011, a curator's wish to include a directory of designers and manufacturers in the catalogue led to a different solution: a stand-alone, print-on-demand book, possibly with pictures of artists in their studios, not of objects in the exhibition, is in the offing.
Read the whole article on my website. All of this, seems to me, is good.
Photo Credit: Courtesy The Metropolitan Museum of Art