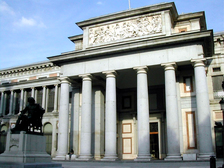 Summer is almost here, and it's not supposed to be this busy. But it is. So I'm again playing catchup. Here are a few interesting developments:
Reuters reveals what's happening with art commissions.
Which Modigliani just fetched a record $52.6 million?
Regarding antiquities, the Indianapolis Museum of Art says this is the wave of the future.
The Baltimore Museum of Art gets out the paint in an attempt to become "a magnet."
Which former opera director is opening a contemporary art gallery in Santa Fe?
The Prado (right) selects a partner museum in the U.S., and it's not one you'd expect.
Back to my usual posts tomorrow.