The world got a new van Gogh painting this week, when on Wednesday the van Gogh Museum in Amsterdam authenticated an early work called "Le Blute-Fin Mill," which was painted in 1886. Van Gogh was living in Paris at the time, and the scene depicts Montmartre, with what the van Gogh museum terms atypically large human figures for the artist.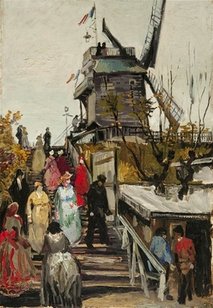 The work is on display in the Museum de Fundatie in Zwolle, the Netherlands.
According to the Associated Press, "it is the first Van Gogh to be authenticated since 1995 and the sixth to be added to the confirmed list of the artist's paintings since the latest edition of the standard catalog was published in 1970."
The painting has a tale behind it, of course. It was purchased along with another painting by Dirk Hannema in 1975 for 5,000 Dutch guilders, which the AP calculated at $2,700. He bought it from a Parisian antique and art dealer and "immediately insured the painting for 16 times what he paid."
Hannema, who had been director of the Boijmans Museum, "knew" he had a van Gogh but few believed him. He had lost credibility in the '30s when a work he purchased as a Vermeer turned out to be a fake and again later when he ran Holland's museums during World War II and was viewed as a Nazi collaborator.
But on this painting, he was right. Read more in the AP article on Yahoo News.