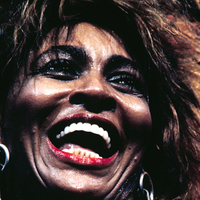 When the Brooklyn Museum's "What's Happening" brochure landed on my desk recently — a close-up of Tina Turner's shining, smiling face on its cover — it was hard not to spend a little time reading about Who Shot Rock-and-Roll, its exhibition of photographs capturing the music of the baby-boomer generation. (Which is to say, me!)
Whatever you may think about the idea that rock photography is an art form, the show — which I breezed through far too quickly last Friday afternoon — is interesting and fun to see.
But a much smaller item in the brochure caught my eye, too: the announcement of a Teen Guide to Art, "created by teens for teens to make looking at art in the Museum both fun and thought-provoking."
This does raise a question: outside of school trips, how are art museums engaging with teenagers?
Brooklyn's guide — just 12 pages — calls itself unique. I found it both charming and somewhat lacking — but understandably so. On the charm side, it's practical (telling where to get a map and where the elevators are) and doesn't condescend. I like that it explains how to read labels (including a decoding of accession information) and urges teens to use their own eyes. The works it chooses to explicate, however briefly — Pat Steir's Everlasting Waterfall, Judy Chicago's The Dinner Party and Kehinde Wiley's Napoleon Leading the Army Over the Alps — would not have been my choices, but… Maybe the next time, the teens will choose at least one work made before 1975 — more diversity!
Here's the link. (Brooklyn also has a teen page on Facebook, btw, but I didn't go there.)
Roaming around the web — to perhaps a dozen museums, most but not all of the usual suspects — it seems that Brooklyn's claim to be unique in this may be correct.
At least a few other museums, however, are treating teenagers as a separate constituency — not as children.
The Metropolitan Museum has a teen program and so does the Seattle Art Museum, which allows teens to apply to advise on the planning of nights call ARTattacks; the Los Angeles County Museum of Art has teen classes, as does the Cleveland Museum of Art.
The Walker Art Center has a teen art panel:
a diverse group of 12 young people who meet weekly to design, organize, and market events and programs for other teenagers and young adults. Using Walker exhibitions, films, or performances as inspiration, WACTAC creates a variety of related programs that connect teenagers to contemporary art and artists.
Surprisingly, "WACTAC members receive a $60 stipend each month" and meet every Thursday, from 4:30 to 6 p.m.
The Walker calls itself a leader in teen programs since 1994, and I don't doubt that, judging from my small sampling. It offers a how-to guide to teen programs, helpfully posted on its website. "Don't make it seem like school," the guide advises.
Absolutely right — and not just for teens, but for everyone.
I contacted the Walker early this week to see what I could learn about the impact of its program, but — this being a short week — everyone was busy. They said they'd be back to me, and when they are, I'll update.
UPDATE, 12/1: The Walker has sent some numbers demonstrating the results of its teen efforts. In 1995, according to Witt Siasoco — program manager, teen programs — teens comprised 9% of the Walker's overall audience; in the year through June 30, 2001, that number was 11 percent, and in FY 2009, it was 14.5 percent. (Overall attendance is also growing.)