Time for a little update on ArtBabble, the website for art videos founded by Max Anderson and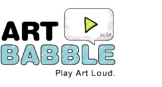 the Indianpolis Museum of Art. Yesterday, AB's enthusiasts there sent out an email — an e-babble, they called it — announcing Art Babble News! of Ten New Partners! to Art Babble Fans!
I appreciate their enthusiasm, so I decided to announce the partners here:
Art Institute of Chicago

KQED

Museum of Arts & Design
Museum of Contemporary Art, San Diego
Norman Rockwell Museum
Rubin Museum of Art
San Jose Museum of Art
Solomon R. Guggenheim Museum
Van Gogh Museum
Yerba Buena Center for the Arts
But they had to come up with some numbers for me to make this post worthwhile. Since its launch in April, ArtBabble has had more than 100,000 unique visitors, according to Robert Stein at IMA.
They stay, on average, a little less than five minutes, he says, "which is comparable to the average length of a video on ArtBabble." And, "pages per visit is hovering around 4 and about 45% of our visitors are return visits."
Fittingly, IMA has posted the most videos — 161. You can see which are the most popular since the launch by visiting the site, though as Rob Stein warns "to be fair most of these views likely occurred during the site launch…"