My life has been sedentary and uneventful of late, but that's about to change. In the month two weeks beginning next week I give nine seven lectures in locations across the nation. First I head for the University of Missouri at Kansas City, where I've already had such happy times, to teach classes on the Concord Sonata, microtonality, and such. I will also give my lecture "Thoreau's Flute and Charles Ives's Concord Sonata" at the Kansas City Central Library, 14 West 10th Street, at 6:30 on the evening of Thursday, Feb. 19. Then I'll teach some Friday classes at Missouri Western State University where my minimalist co-conspirator David McIntire teaches, and on February 21 at 7 I'll give a pre-concert lecture about the Concord Sonata prior to Robert Pherigo's performance of it at that school. (My dog Gita's face made it onto the poster at right.)
The following week, weather permitting, I'll be in Pittsburgh for the Beyond Microtonal Music Festival at the University of Pittsburgh. On Saturday afternoon, February 28, I'm giving a talk on my microtonal composing techniques that currently bears the working title, "How the 13th Harmonic Saved My Sorry Ass." I'm trying to come up with a more polite official title, but drawing a blank. The next evening at the Andy Warhol Museum, Aron Kallay and Vicki Ray will give the world premiere of my Romance Postmoderne (though you've heard it here before). I've also been asked to give a talk on La Monte Young's Well-Tuned Piano, though I don't see yet that on the schedule.
I then get a week's respite, and on March 11 I'll be presenting the Geiringer Musicology Lecture at the University of California at Santa Barbara; my bold-yet-qualified title is "How Ives Composed (in at Least a Few Instances)," this time actually mainly about the First Sonata, and I'm giving another lecture as well. I'll give you final information for all that later. Oops – this event has now been postponed until next October. My fault for posting during Mercury retrograde.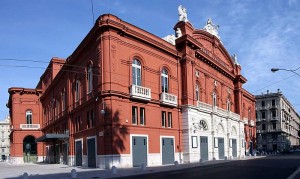 I then spend a summer on my screened-in porch smoking and drinking more than is good for me, and the following September is really exciting. From September 8 to 13 in Bari in southern Italy, pianist and American music crusader Emanuele Arciuli, courtesy of the Bari Conservatory where he teaches, is throwing a Totalism festival, of all things, at the Teatro Petruzzelli (pictured), featuring music by me, Bernadette Speach, Mary Jane Leach, John Luther Adams, Lois Vierk, Evan Ziporyn, Eve Beglarian, Larry Polansky, Julia Wolfe, and Michael Gordon. My Transcendental Sonnets for chorus and orchestra will get its European premiere, and Bernadette's Embrace the Universe, for the same forces, its world premiere. What a fantastic week that sounds like! I told Emanuele it looks like I programmed the music myself. And two weeks later, Sept. 24-26, comes the Fifth Annual International Conference on Minimalist Music in Helsinki, for which I am the guest composer and also probably submitting a paper on Elodie Lauten. I'm trying to figure out reasons to stay in Europe from Sept. 14 to 23, if any of my European friends are reading. After a few slow years everything's about to speed up again.