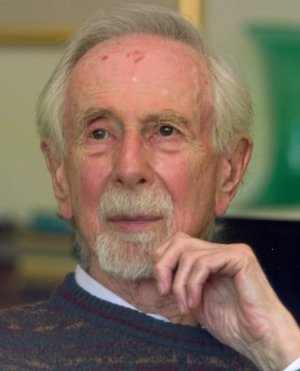 For years I've been complaining about the unavailability of George Rochberg's symphonies on recording, aside from the 2nd and 5th. The 2nd is such a fantastic piece – just about the one 12-tone piece I can count on students going nuts for at first listening – that I've felt like an important slice of history was missing in especially the 3rd and 4th symphonies, the ones written during his turn toward romanticism and collage in the period of his Concord quartets. Well, several months ago the remaining symphonies were quietly added to YouTube, and so now I've finally, finally been able to listen to all of them (I thought the 2nd was up too, but I can't seem to find it at the moment). The links are here:
Symphony No. 1 (1948/77/2003)
Symphony No. 3 (1969)
Symphony No. 4 (1976)
Symphony No. 5 (1984-5)
Symphony No. 6 (1987)
I also bought scores of the 3rd and 4th from Sheetmusicplus.com. The 1st was revised a couple of times; one of the YouTube videos is only of three of its five movements, and the other has the whole 64 minutes, so make sure you get the full version, as it's well worth it. The five-movement version was recorded on Naxos at some point but seems to be unavailable now (at least via Amazon). That's a wild, imaginative, colorful piece, generally atonal but clearly not 12-tone, and with neoclassic elements.
The 3rd is amazingly strange, a choral symphony soaked in Beethoven quotations (with a dash of Mahler). Some of the Beethoven is from the Eroica and instrumental movements of the 9th, though with chorus added for a surreal effect; you recognize the music but can hardly place it because they're singing a nonvocal piece. It's kind of an American answer to Berio's Sinfonia – admittedly, not nearly as fun, but dramatic and strangely evocative at times. I'll caution you about getting the study score – it's a Xerox of Rochberg's pencil score, reduced to 8×11 paper from legal, and the notes can be really hard to make out. (It's a sad commentary on our times that composers of the stature of Rochberg and William Bolcom, whose symphonies I also collect, get sold in such crappy manuscript-duplicating editions that you can hardly read. I suppose music engraving is too expensive these days, but you'd think they could pay some grad student to input the pieces into Finale.)
The 4th is Rochberg's big romantic symphony, very 19th-century in idiom yet not without its timbral and textural idiosyncrasies, and it astonishes me that someone could have produced such a piece as early as 1976 – ten years later, such boldly anachronistic gestures were no longer so uncommon. I like it better the more I listen to it for its personality, formal clarity, and sense of being somehow ahistorical. The 5th and 6th symphonies don't interest me quite so much only because they are not so wildly out of place for their time; the 5th returns somewhat to Rochberg's earlier atonal idiom, though the 6th can sound like an odd cross between Mahler and Shostakovich, generally tonal but extremely free harmonically. They're all very individual works, interestingly contrasted, and I think Rochberg has to be counted among the top six or eight American symphonists (with Ives, Copland, Harris, Schuman, Harrison); he was a natural for the form. I also enjoy teaching his music more than that of any other non-Downtown, post-12-tone figure, because in one bumptious trajectory he encapsulated so many phases that American music itself would go through. He's kind of a one-composer object lesson for making a wide variety of points. The very existence of such pieces is a philosophical conundrum worthy of discussion. I find him tremendously brave, extremely talented – and if not consistently convincing, always impressive.