[UPDATED] It strikes me lately that there are basically two types of performances in a composer's career, or at least in a half-assed composing career like mine. One is, you're invited to an event, they offer to play a piece of yours, it gets one rehearsal the day before, maybe, and they nominally play it. The other is, a performer (in my case, Sarah Cahill, Lois Svard, Relache, Aron Kallay) chooses to tour with a piece of your music, and he/she/they is/are highly motivated to show the world what wonderful performers they are, and so of course they work their butts off and do a magnificent job, and the piece benefits from repetition in ways that no single performance could effect.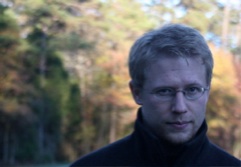 I'm tired of the first category, but luckily I'm about to get a dose of the second, because Los Angeles pianist Aron Kallay, who specializes in microtonal MIDI keyboard, is starting a eastern-half-of-the-country tour this Friday night with some of my music under his arm, including the most recent piece I wrote for him, Echoes of Nothing. Here's his schedule:
September 28 – Chicago – Heaven Gallery
September 29 – Champaign, IL – SoDo Art Gallery
September 30 – Fishers, IN – Fishers Public Library
October 3 – Hartford, CT – Hartt School of Music
October 4 – Pittsburgh, PA – Carnegie Mellon University
October 5 – Annandale, NY – Bard College
October 6 – NY, NY – The Spectrum New Music Space
The Bard performance on October 5 (in Blum Hall, 8 PM) will include three works I wrote for him, plus a performance by soprano Martha Herr, an old friend of mine and an illustrious singer who premiered Feldman's opera Neither. Martha is premiering a music theater piece for soprano and electronic background that I wrote seven years ago, called Scenario, based on a surreal S.J. Perelman text.
I've been looking forward to these premieres for a long time, and I finally have Aron's lovely recording of Echoes of Nothing for you. Both movements based on the same tuning, a kind of microtonal, Clementi-ish two-movement sonata, an adagio and a rondo, so to speak: