Holy cow! The ancient comic strip Mary Worth quotes John Cage today!. And Josh Fruhlinger of Comics Curmudgeon (a very funny blog I've mentioned here before) responds to it with a 4'33" reference. It's kind of a Hallmarky sentiment by Cagean standards, but I'm having fun picturing the comic with some other Cage quote in there. Like, "If you have no particular togetherness in mind, there are chronometers. Use them." (h/t David McIntire, though I would have seen it myself by afternoon.)
UPDATE: I have to include Ernest Ambrus's cartoon he sent in response. A whole book of these could be hilarious: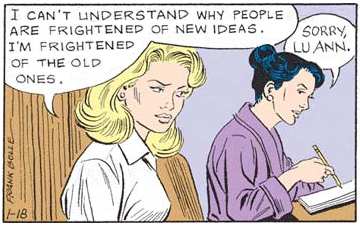 UPDATE 2: Ernest outdoes himself (and see comments):

It's all that much funnier if you keep up with these strips to read Comics Curmudgeon. And, while I'm at it, what else have I got to do?:

Good lord, what have we begun?
UPDATE 3: And again: