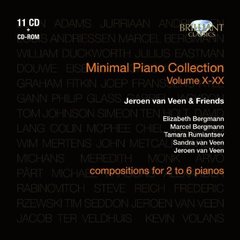 I had a notice from the post office of a package waiting for me, so I stopped to pick it up on the way to school. It was a CD set. I get a lot of those sent to me. This one was Minimal Piano Collection Volume X-XX, a bunch of minimalist pieces for multiple pianos put together by Dutch pianist Jeroen van Veen on the Brilliant Classics label. I had seen the first Volume (I-IX because it contains nine CDs) in Amsterdam, but hadn't bought it because I already had other recordings of some of the music. So I was glad to get this, and didn't think too much about it as I was rushing to school – until I turned it over and noticed my own name. And sure enough, Jeroen and Sandra van Veen (with overdubbing) included my Long Night (1981) for three pianos, and I had no idea they were doing it. As I look through my old e-mails, I find that Jeroen did write long ago to express general interest, but I don't believe he ever told me it was coming out. The other composers in the collection are (take a deep breath) John Adams, Jurriaan Andriessen, Louis Andriessen, Marcel Bergmann, William Duckworth (Forty Changes and Binary Images, which I didn't know and they're lovely), Julius Eastman (Gay Guerilla), Douwe Eisenga, Morton Feldman (including the seminal Piece for Four Pianos, which I'd only had on scratchy vinyl), Graham Fitkin, Joep Franssens, Philip Glass, Gabriel Jackson, Tom Johnson, Simeon ten Holt, David Lang (Orpheus Over and Under), Colin McPhee, Chiel Meijering, Wim Mertens, John Metcalf, Carlos Michans, Meredith Monk, Arvo Pärt, Michael Parsons, Alexander Rabinovitch, Steve Reich, Frederic Rzewski, Tim Seddon, Jeroen van Veen, Jacob er Veldhuis, and Kevin Volans (Cicada, great piece). 
It's scary to have a piece come out on recording and not work with the performers at all, especially with a piece as free and amorphous in its notation as
Long Night
(which I wrote 150 years ago at age 25, fer gosh sake). But the van Veens did a nice job with it, a little louder and less pedalled than Sarah Cahill's version, but longer (31 minutes) and quite clear and enjoyable. I hear the notes and textures I wanted to hear, and sensitively done. It convinces me that the notation is clear enough to trust to strangers. As someone who grew up as a weird kid without many friends, it means more to me than you'd imagine to be included in a big group of composers like this. And it's an astonishing surprise to receive in the mail a recording of your own music that you didn't know was on the horizon.