We went to Concord, Mass., a couple of weeks ago. It's my default short-vacation spot. I love the bookstores: The Barrow, the Concord Bookshop, Books with a Past, as well as the gift shops at local museums and authors' houses. I always find a dozen books there I didn't know about, many about Transcendentalism. And we walk around Walden Pond, and I wonder how much quieter it might be if Thoreau hadn't turned it into such a shrine.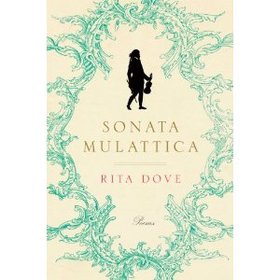 In The Barrow, I was going through
poetry, and my eye ran across a title: Sonata Mulattica. I did a double take,
chuckled in surprise. I tried to keep going. I looked at it again. I took it
out, read a poem, put it back and moved on. But the book virtually leapt back
into my hands. It's by Rita Dove, African-American poet who was poet laureate from
1993 to 1995. How can it be that the national poet laureate receives so little
fanfare that I can fail to have heard of her 15 years later?
Anyway, Sonata Mulattica is an entire book of poems about a single subject: Beethoven's writing the Kreutzer Sonata
for the "African prince" violinist George Augustus Polgreen Bridgetower,
falling out with him over a woman, and then dedicating the piece to Rodolphe
Kreutzer instead. Dove uses lots of musical terminology, all correctly – in youth she
played the cello, apparently – and her characterizations ring true and tired
and humble, with none of the pompous mythologizing that attends portraits of
great composers. Poem after poem after poem on this one moment in history, some
from Bridgetower's perspective, some from Beethoven's, some from that of minor
characters, and some of my favorites are about Haydn, who encouraged Bridgetower. This one is titled Haydn, Overheard (I'll refrain from entire poems for copyright reasons):
It is a sad thing always 
to be a slave 
but if slave I must, better 
the oboe's clarion tyranny
than a man's cruel whims. 
I stayed on at Esterhaza, 
writing music for the world 
between spats and budgets,
with no more leave 
to step outside the gates 
than a prize egg-laying hen. 
Even after Miklós died
and his tone-deaf son 
filled the courtyard 
with military parades, 
I hesitated: Call it
robbing Peter to pay Paul, 
but I had been homeless once 
and did not care for hunger….
But the finest gift I ever received 
was the vision of Johann Peter Salomon 
with his flamboyant nose and cape 
swirling across my doorstep:
"I've come to fetch you," he said. 
It was December. We set out 
from Vienna on the fifteenth 
for London, that great free city.
And here's Bridgetower, in a poem called Andante con
Variazioni:
Thank you. It was a privilege. You are so kind. 
It is all his doing; I am merely the instrument. 
To have the honor of this premiere… 
a beauty of a piece, indeed.
What an honor! Countess, I am enchanted. 
I only wish I could better express my gratitude 
in your lovely language: Vielen Dank. 
It is all his – why, thank you, sir, I am speechless….
Herr van Beethoven is indeed a Master, and Wien
an empress of a city. My apologies –
I only meant that she is… magnificent.
(Ludwig, get me out of here!)
[UPDATE: In an attempt to better do the book justice, here's Beethoven:
Call me rough, ill-tempered, slovenly – I tell you,
every tenderness I have ever known
has been nothing
but thwarted violence, an ache
so permanent and deep, the lightest touch
awakens it… It is impossible

to care enough. I have returned
with a second Symphony
and 15 Piano Variations
which I've named Prometheus,
after the rogue Titan, the half-a-god
who knew the worst sin is to take
what cannot be given back.

I smile and bow, and the world is loud.
And though I dare not lean in to shout
Can't you see that I am deaf? –
I also cannot stop listening.]
It's a lovely book, a theme with variations indeed, and from
every possible perspective. I could imagine reading about this episode and
writing a poem, but an entire book of poems and so musically intelligent – it's
quite astonishing. I considered ordering it as a textbook for my Beethoven
course this fall, but I think I'll just put it on reserve, and make a much
bigger deal than usual about the Kreutzer Sonata, which is one of my favorite
middle Beethoven pieces anyway. Rita Dove: Sonata Mulattica (2009): highly
recommended. And it's why internet shopping is not enough. I would never have
run across this book on the internet, never known to Google "poems about
Beethoven," never known who Dove was. Occasionally you have to walk into a
really good, independent bookstore and finger every book on the shelves. 
I also ran across The Thoreau You Don't Know (also 2009) by Robert
Sullivan. It looks and sounds like a facile compendium of Thoreavian esoterica,
but it's actually a brilliant revisionist biography, with the
contradictory virtues of being breezily written yet withal extremely erudite.
Its ostensive purpose is to rescue Thoreau's reputation from those who think he
was an antisocial "Mr. Nature," by emphasizing the year he spent in New York
City trying to get a start as a writer, the time he spent in court as expert
witness for property disputes (being a surveyor), and his wise handling of the
family pencil business. Having not had a superficial view of Thoreau myself
(the book convinced me), I didn't need the revisionism, but I was impressed
with how much mass culture Sullivan delved into in order to anchor Thoreau in
his immediate society, researching 1840s sheet music and ladies' magazines, and
the changes in agriculture brought about by the depression of 1837. The
bibliography is kaleidoscopically diverse. Oxymoronically a thought-provoking page-turner, the book is a worthy opposite bookend to
Robert D. Richardson's more introverted Henry Thoreau: A Life of the Mind.