One more thing about composing, since these theme columns tend to come in threes.
This is a guilty secret. When composing, I usually imagine more how the piece will sound on recording than in live performance.
There is, as we classical types all too seldom recognize, a difference. I love listening to Feldman's For Samuel Beckett on disc; I can just melt into it. But I heard it live once (John Kennedy conducting at Lincoln Center), and I felt nearly suffocated, sonically claustrophobic. Ten minutes into it I had an impulse to flee the hall – but I didn't. On the other hand, I don't think Feldman's Second Quartet would mean nearly so much to me if I had heard it only on CD, and not live. I had to live through it in real-time experience to fully get it. And those are two extremely different examples within the same composer's output. In live performance I expect to be a little more entertained, and can appreciate a more volatile sense of drama. I tend to pick CDs to listen to more for ambience, based on overall consistency and a paucity of dramatic contrast.
And I have many reasons to imagine my music on recording. One is that 98% of the music with which I am extremely familiar I know from recordings, not from live performance. Opportunities to hear my favorite works live are extremely, extremely rare. I was in my 50s before I got to hear Thomson's Symphony on a Hymn Tune and Harris's 3rd live, and I've loved them from high school. As for my own music, for every one person who hears it live, there will be 300, or maybe 3000, who will hear it on a recording. I think most of us are pretty much in the same boat here.
But the most important reason is that I like records. Let me amend that: I
liiiiiiiiiiiiiiiiiiiiiiiiiiiiiiiiiiike records. I started collecting records when I was 12. (I went down to Melody Shop in downtown Dallas – this was 1968 – and bought, for some reason, The Threepenny Opera and Berlioz's Romeo and Juliet. Heaven opened up to me. I still adore both pieces.) Here is almost a third of my CD collection: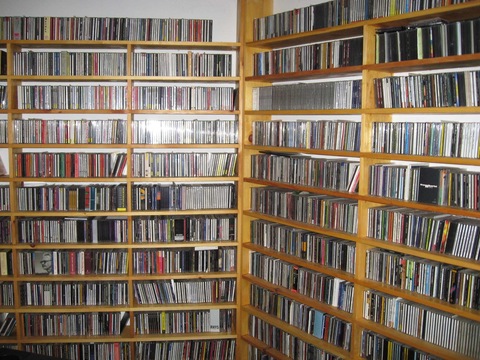 I appreciate the immediacy of live performance, and in some sense I realize I've never really heard a piece until I hear it live, and many live performances have changed my life, but I have a lifelong love affair with records. Live performances are nervous-making, and almost never go completely the way you wanted. Becoming a critic was, for awhile, the perfect profession: most of the discs you see
there were sent me free of charge. (It's a fairly small collection by music critic standards, because your average living composer doesn't put out new discs nearly as often as jazz and straight classical musicians do.) What would really, really make me feel like a composer, though, as I've said before, would be to have my music on an RCA vinyl record with a clear plastic inner sleeve and long, readable liner notes on the back, and maybe Ormandy conducting, with, say, the Berg Violin Concerto on side
2. That's what composers were when I was a kid, and that would make me feel like I finally achieved composerhood. I don't expect to ever get it (certainly not with Ormandy).
That is not to say that I put out CDs conceived as "records," any more than most
classically trained composers do. For some reason we keep writing as though for live performance. I haven't managed to put out "concept albums," although some of my electronic works have tended that way, if I could get enough of them together on one disc. I think The Planets works well as a total CD because of its length and stylistic unity; it's my best record whether it's my best piece or not. As I've said many times, I think the only new-music composers who are really geniuses at putting out records have been Bob Ashley and Paul Lansky. Perhaps there are a few others I'm not thinking of. But I do suspect that the flatness, the consistency, the Zen, the drama-lessness of my music stems not just from my personality, but partly because I want to listen to it on a record.
UPDATE: I should add the obligatory depressing postlude. A few weeks ago I threw away, for the first time, a CD that had deteriorated to the point of unplayability: Brahms string quintets on Nonesuch. Picked it up out of the machine, held it to the light, and it had a dozen or so pinpricks where the coating had, I dunno, fallen off or collapsed or something. I listened instead to the mp3s on my hard drive. I've transferred most of those CDs to three hard drives, and hopefully will transfer those files to newer ones before the hard drives quit working. I can pass my vinyl down to my grandchildren if they want it, but I will probably outlive my CD collection. The only permanent storage medium my music is preserved on is the paper the scores are printed on. Everything else is designed to expire.