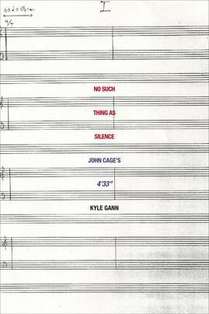 Two boxes of my book No Such Thing as Silence: John Cage's 4'33" arrived this week, the first time I've had a book and CD come out the same week. (Today I also received an announcement that an Italian edition is under way.) And although Amazon still has the release date as March 23, I've already gotten a nice review from Publishers Weekly. Especially gratifying were these lines:  
Following a biographical summary of Cage's early musical development, Gann considers the various influences that got him thinking about "silence, meditation, and environmental sound," from 20th-century composer Erik Satie back to the medieval mystic Meister Eckhart, moving on to a sensible reconstruction of the piece's development–down to telling details like the fact that its length is roughly the same as the temporal space on a 12-inch 78 rpm record. [Thanks to my readers for that latter insight.] Though Gann clearly respects Cage and 4'33", he doesn't worship either blindly, and that critical appreciation makes his argument that this is a radical "act of listening," not a provocative stunt, all the more compelling.
I do take pride in the fact that I disputed some of Cage's ideas when they didn't seem solidly grounded, and I tried to gently hammer home my conviction that Cage was no philosopher, nor even a particularly consistent thinker. What he was was a brilliant writer, whose irresistible literary charm paved the way for the acceptance of his music, and an artist who took much of his inspiration from the fields of religion and philosophy. Such does not a philosopher make.
(I have to admit, the back of the book has blurbs from John Luther Adams, Robert Carl, Bill Duckworth, and Larry Polansky. And I wish they had put a heading above all those quotes: "Four of Gann's best friends couldn't be wrong.")